Mt. Rigi Winter Day trip from Zurich
Today, I would like to share my travel experience of Mt Rigi winter day trip from Zurich that has been one of my best winter travel experience. I hope some of you will be inspired to take it if your travel plans take you to Zurich, Lucerne or nearby areas in winter. 
 So, I took this trip with my Mom and sister in February 2012. The trip is roughly 10 hour day trip that starts from Zurich Sihlquai bus station at 9 a.m. and took us back to Zurich around 7 p.m.  We had enough time to grab dinner in Zurich and some shopping of clothes 🙂 after the trip ended. I find Zurich pretty expensive though!!.
THIS POST CONTAINS AFFILIATE LINKS, SEE FULL DISCLOSURE
Trip Itinerary 
Mt Rigi winter day trip Zurich
I bought this trip from Viator and here is the link "Mt.rigi winter day trip from Zurich", along with some of my other favorite Zurich trips on Viator. 
Start and end point is Zurich Sihlquai bus station 
9 a.m. ~1.5-hour bus/coach ride from Zurich to Weggis. Weggis town is located at the base of Mt. Rigi.
11:15 a.m. 10 minutes breathtakingly winter scenic view in the aerial cable car from Weggis to Rigi Kaltbad. Quick 5-minute walk to cogwheel train for Mt. Rigi.
11:30 a.m. 15 minutes heated cogwheel train ride to Mt.Rigi at an elevation of 1800 meters like 6000 feet.
1:15 p.m. 40-minute picture postcard scenic descent on a cogwheel train ride to Vitznau. see photos later in the post. 
2:30 p.m. 1-hour leisurely boat ride on Lake Lucerne from Vitznau to Lucern
3:30 p.m. spend around 2 hours in Lucerne and meet the bus at 5:30 pm. 
5:30 p.m.Meet the bus by a watch shop
7 p.m. Reach Zurich at the start point. 
Trip itinerary is what we followed that day and we had a wonderful guide who will answer any questions. Hope you will enjoy the pictorial journey of my trip now:)
Pictorial journey of Mt.Rigi, Queen of Mountains from Zurich
1. Zurich to town of Weggis in coach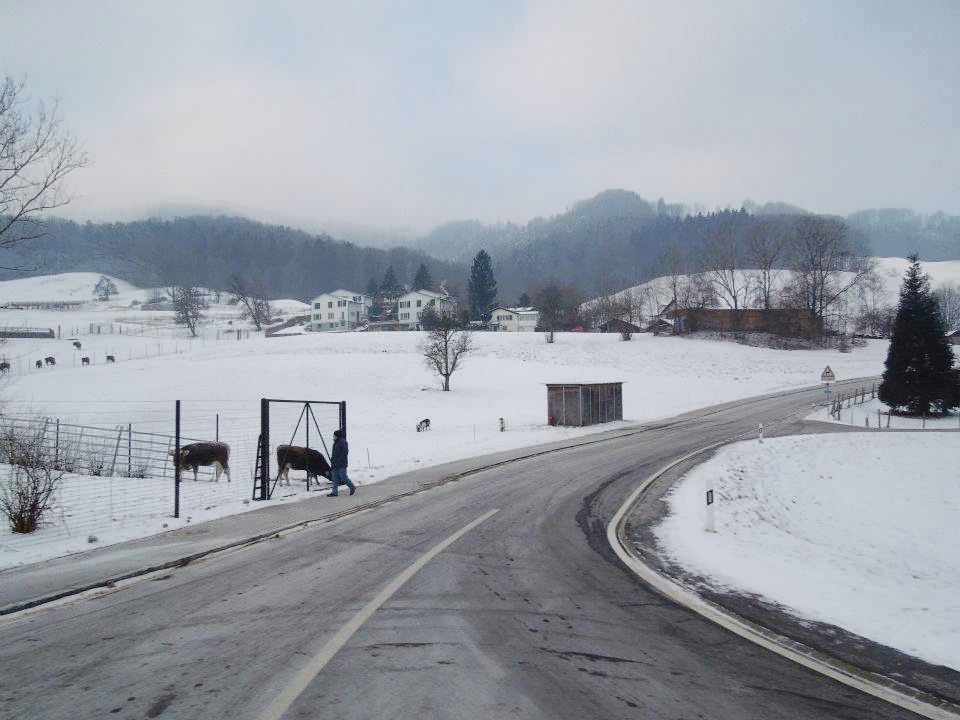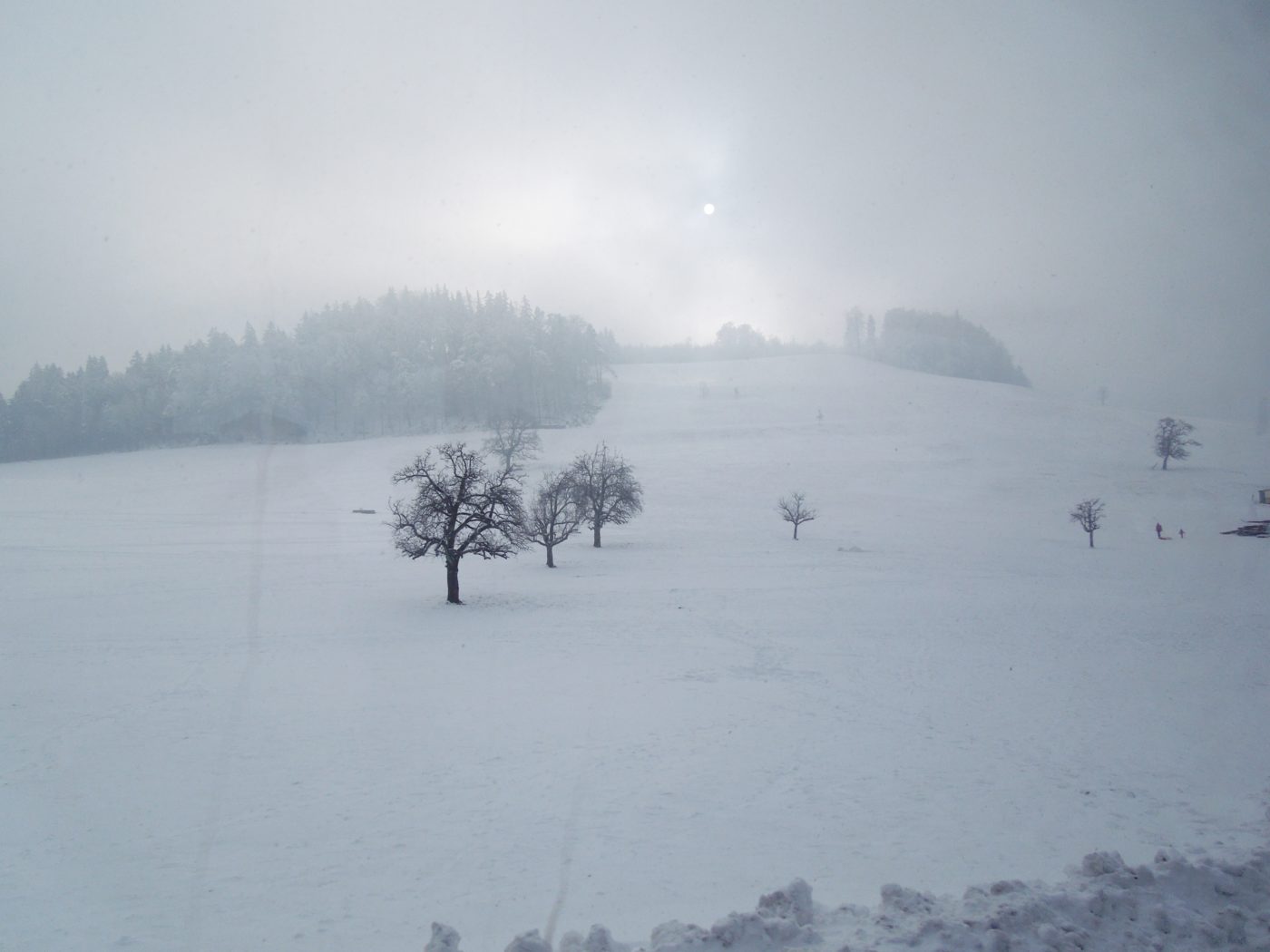 We started around 9 am in a coach bus and I was a gloomy cloudy day and bone-chilling cold winter. At least for me, visiting from sunny Florida. It was nice scenic 90 minutes drive though!!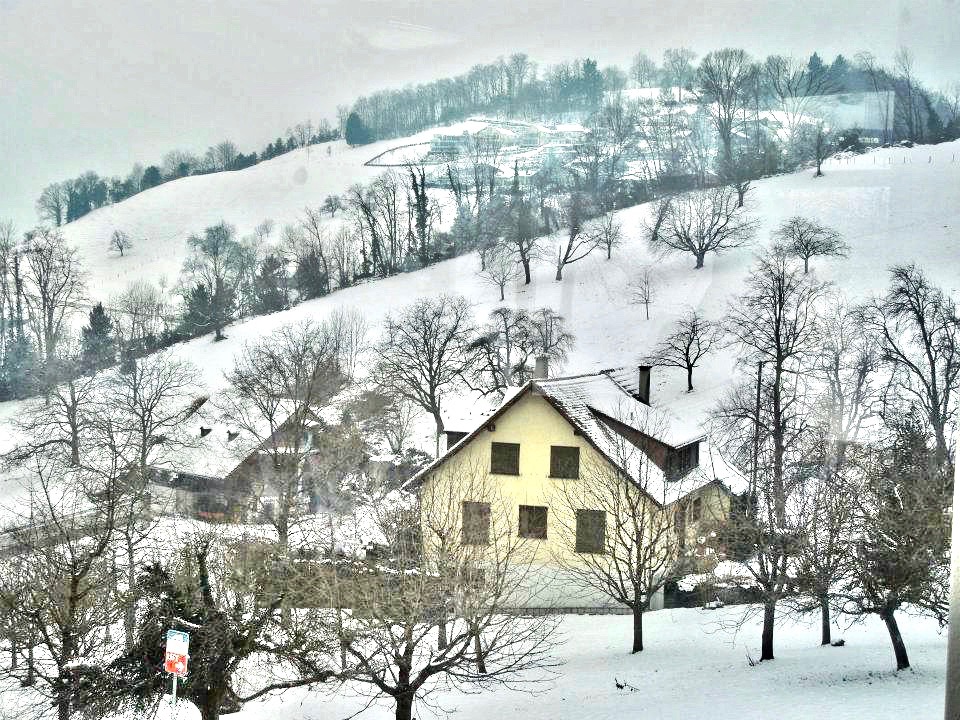 Then we reached Weggis town, and this is a photo from cable car station.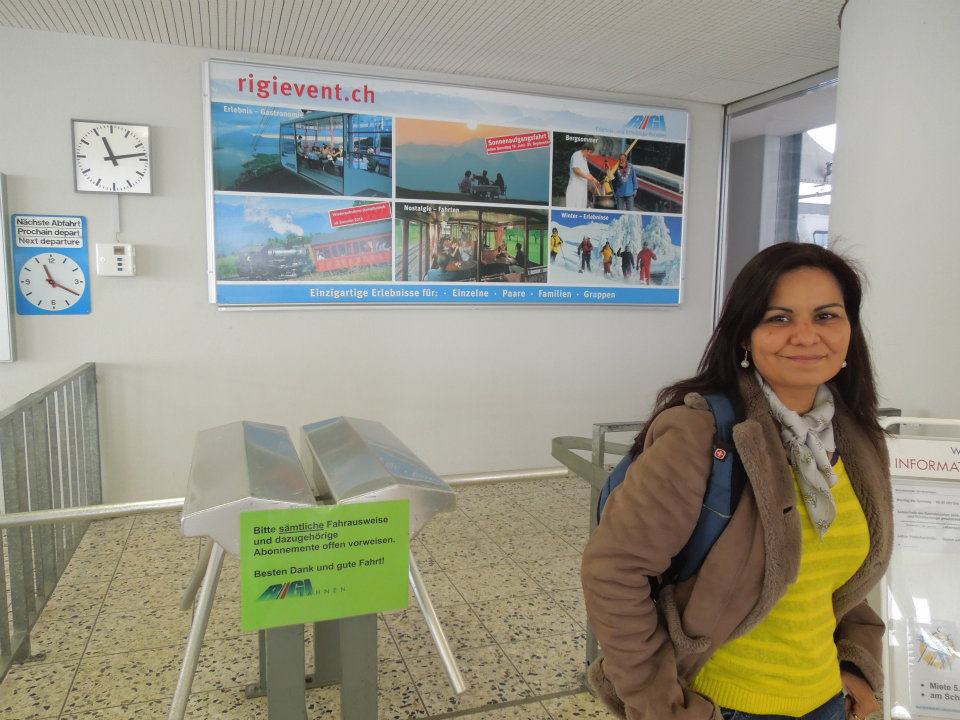 Inside aerial cable car station, I was pretty excited.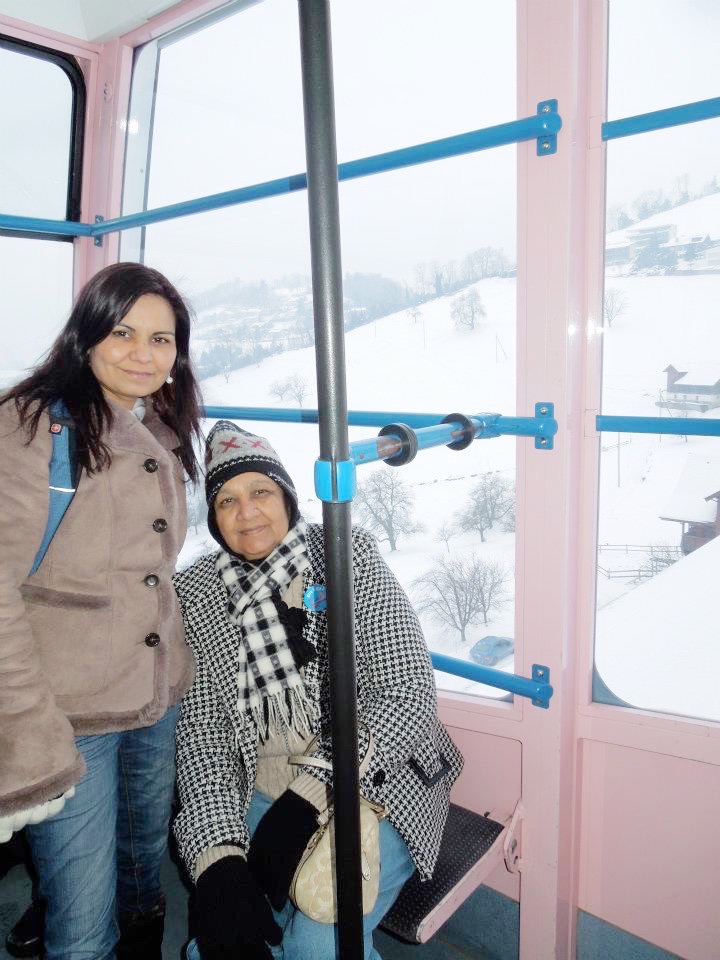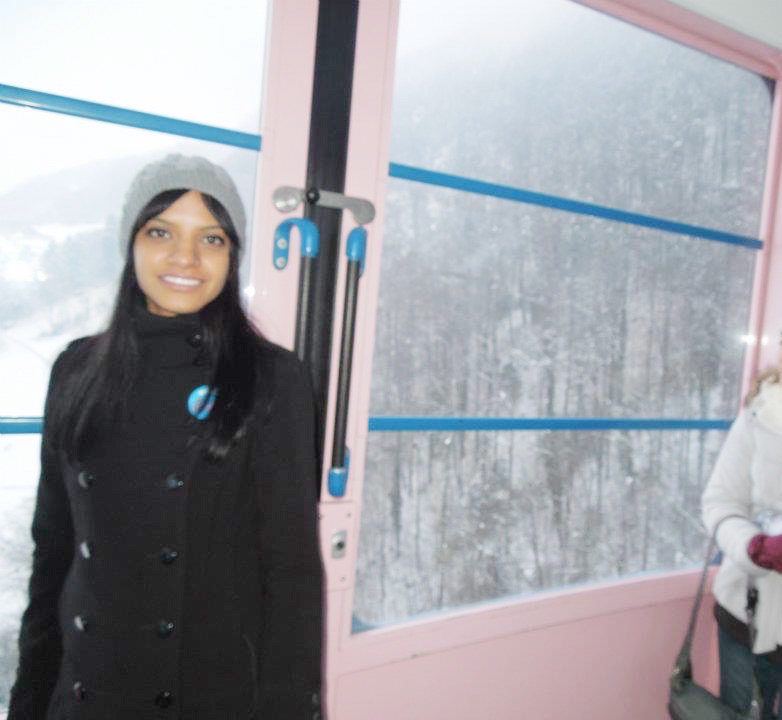 Inside of the aerial cable car looked like a gondola on ski slopes. We started to rise up through the town of Weggis and dense forest started to show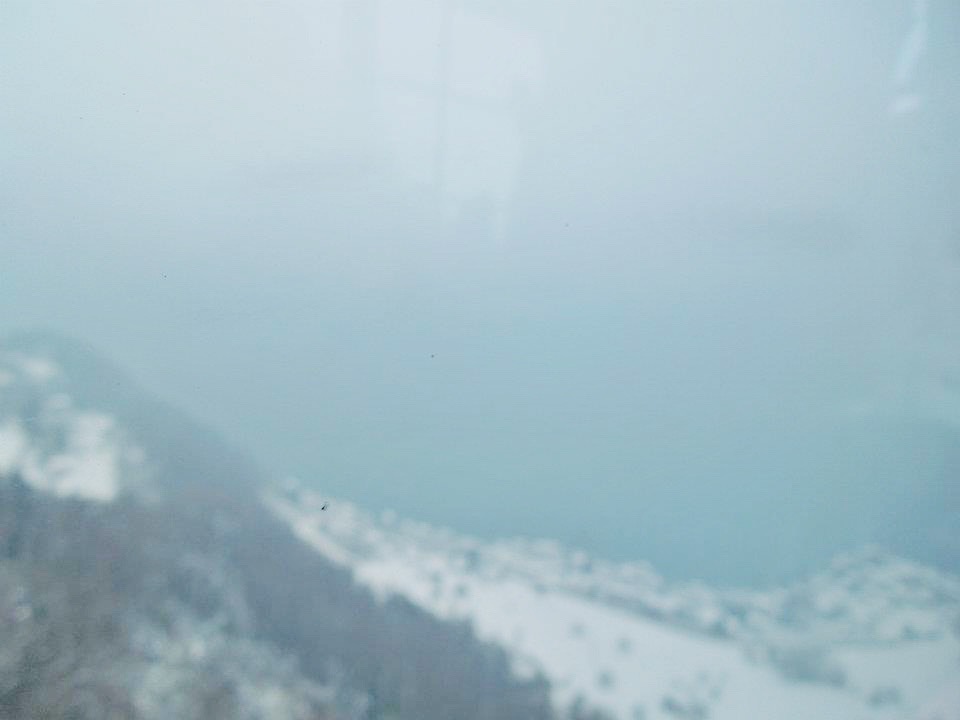 And then we started to ride up in midst of thick dense cloud just like an airplane through bed weather 😉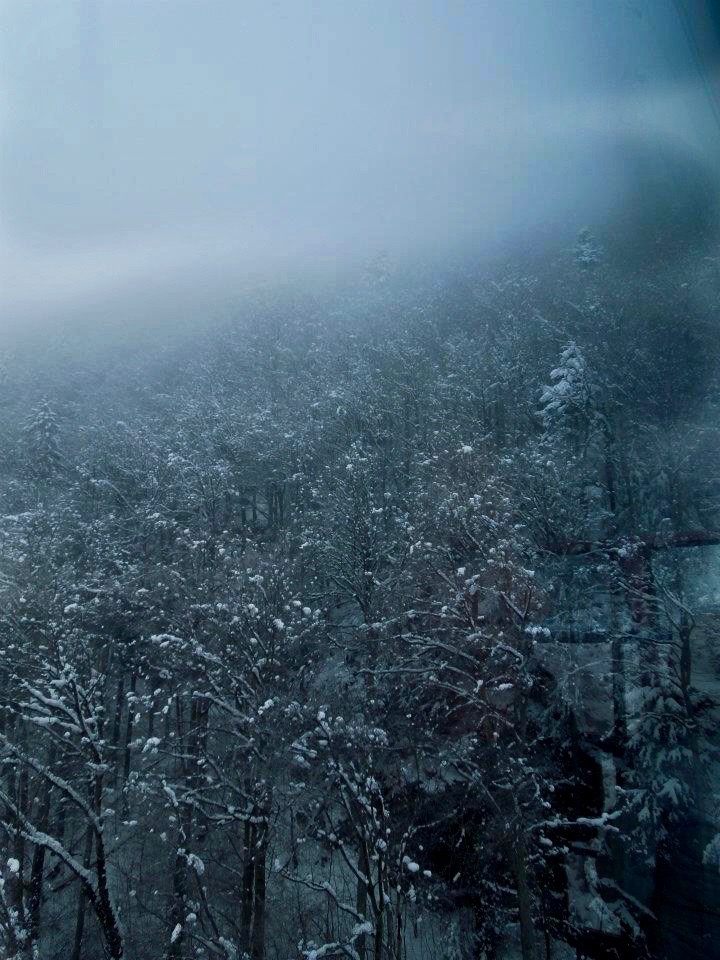 In Cable car going through dense forest and clouds to Rigi Kaltbad to board cogwheel train for  Mt. Rigi.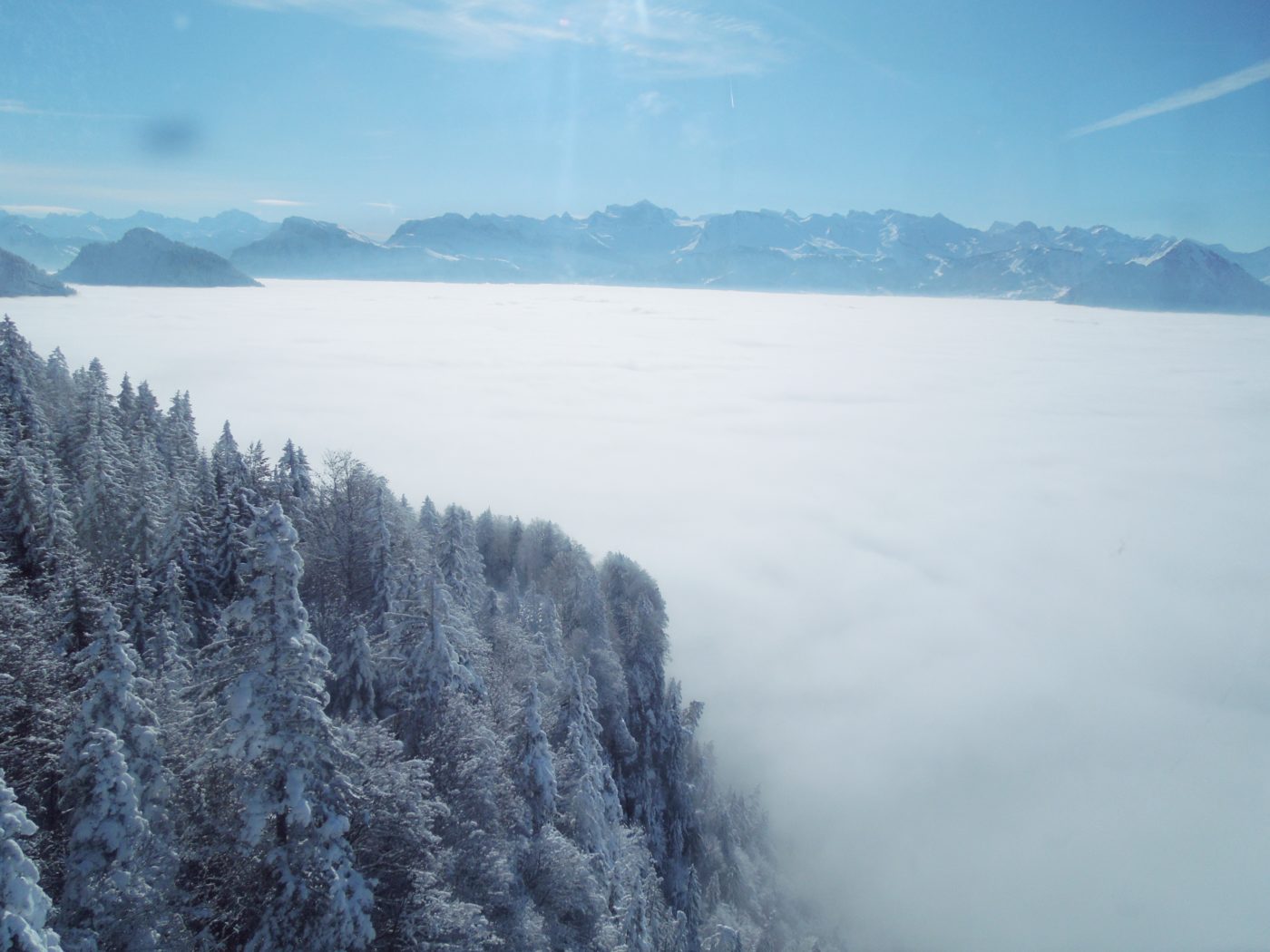 Voila- what a view- our cable car just rose above thick dense dark clouds to nice sunshine and mountains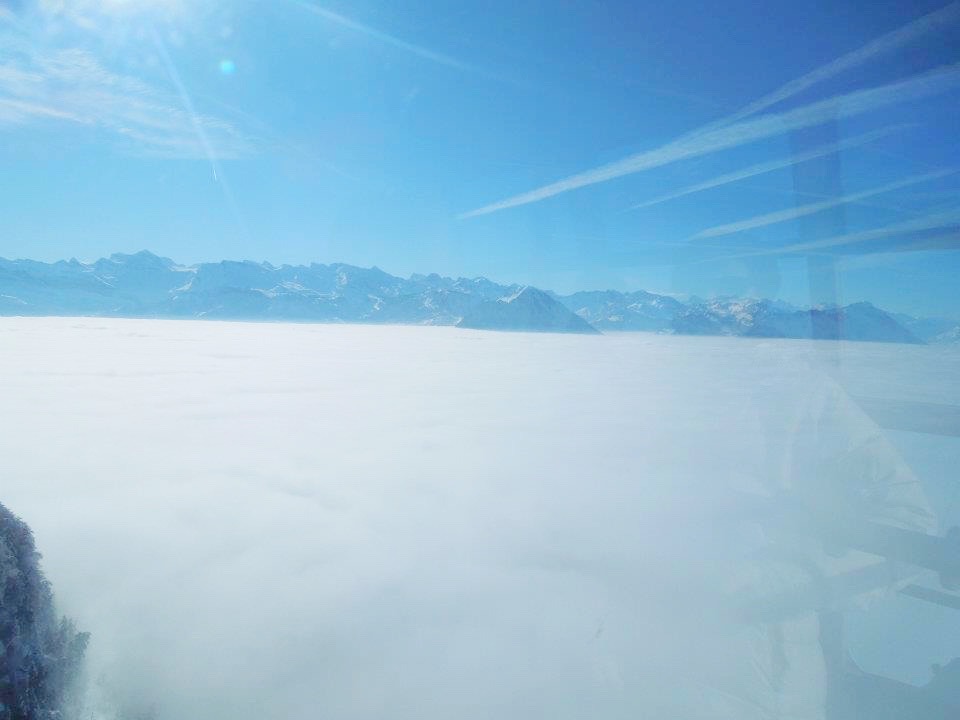 This moment was just breathtaking, totally unexpected. 
what a view- our cable car just rose above thick dense white clouds to nice sunshine, blue sky, and mountains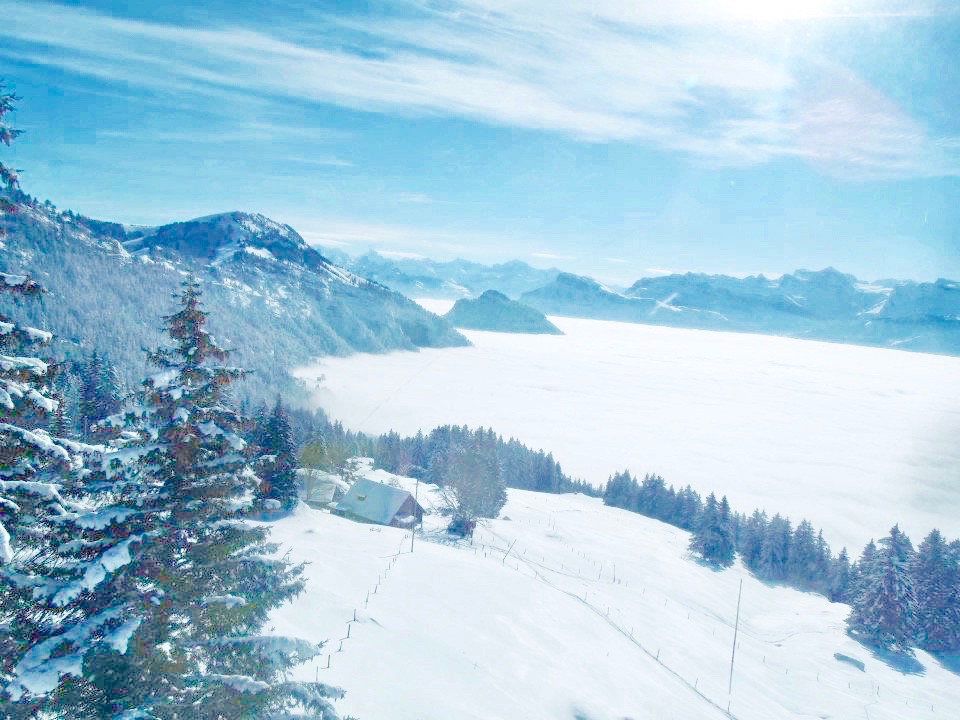 And, while we were still in our euphoric moment with a big grin and surprised eyes, we spotted ski slopes.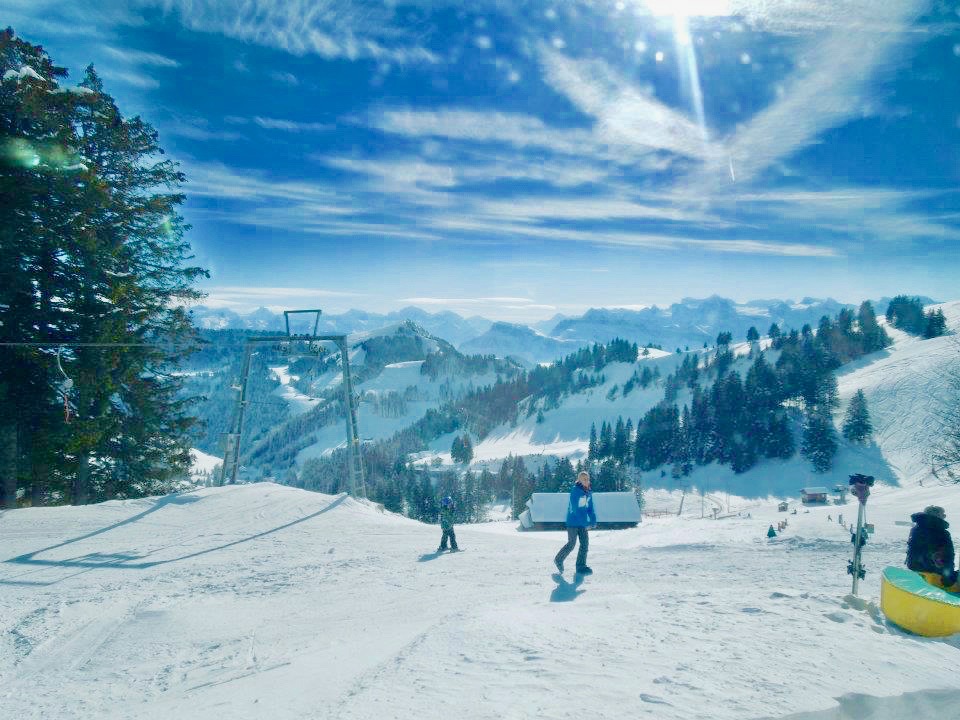 Rigi Kaltbad
And then we saw chairlift and few people  doing snow activities, like tubing and skiing,
3. Mt. Rigi – queen of mountains @ 6000 feet/ 1800 meters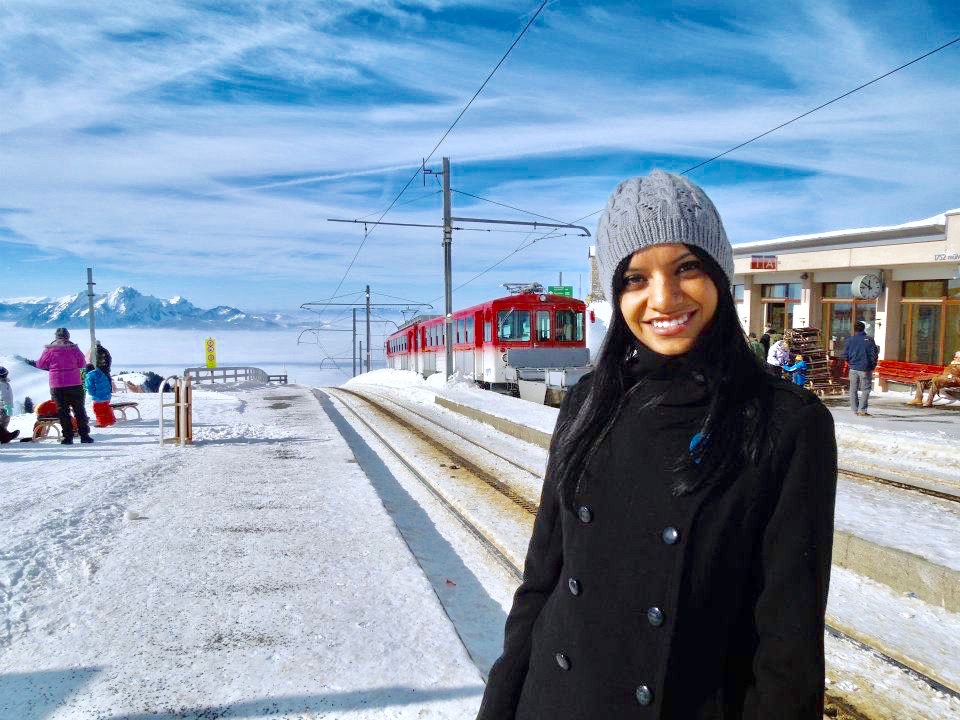 Reached Mt. Rigi in cogwheel train on Europe's first cogwheel railway. My sister posing and me taking a picture.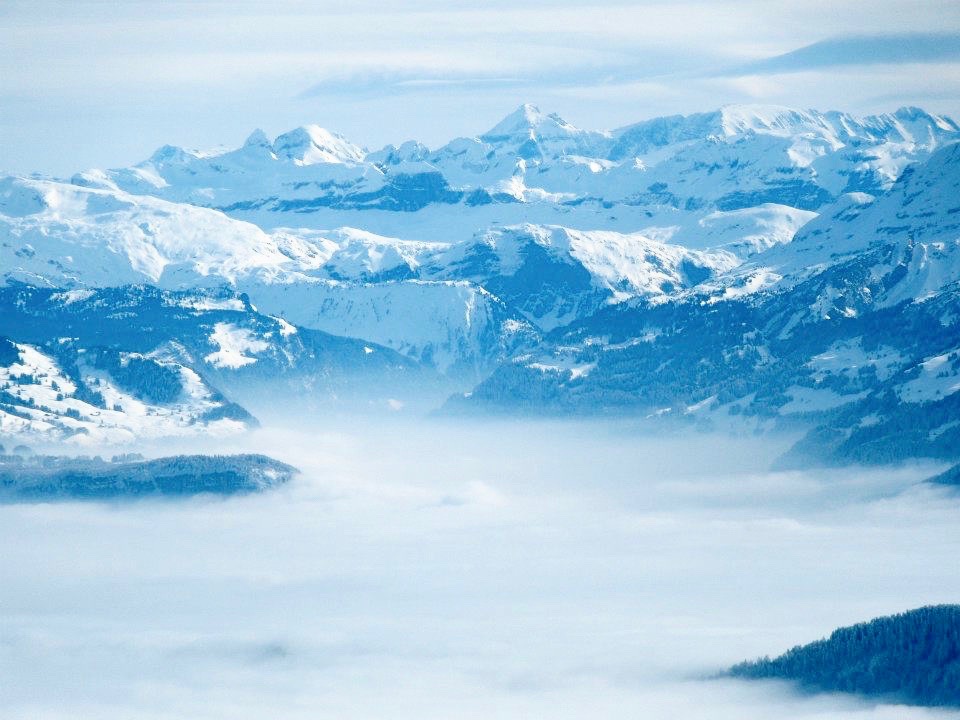 Superb view of snowcapped Swiss Alps from mt.Rigi
don't get lost in this view :), be sure to sign up for $50 Sephora giveaway at the end of this post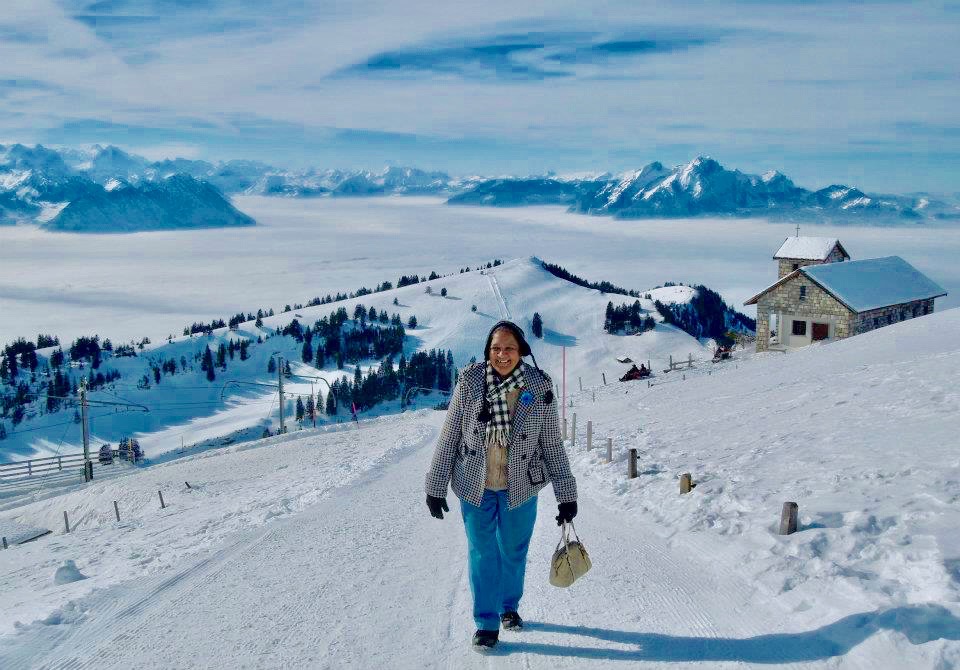 We hiked up a little bit in the snow to have a better view, thick clouds right at the base of mountains have made a picturesque scene. That's my mom walking up.  She was out of breath though, she is smiling here 🙂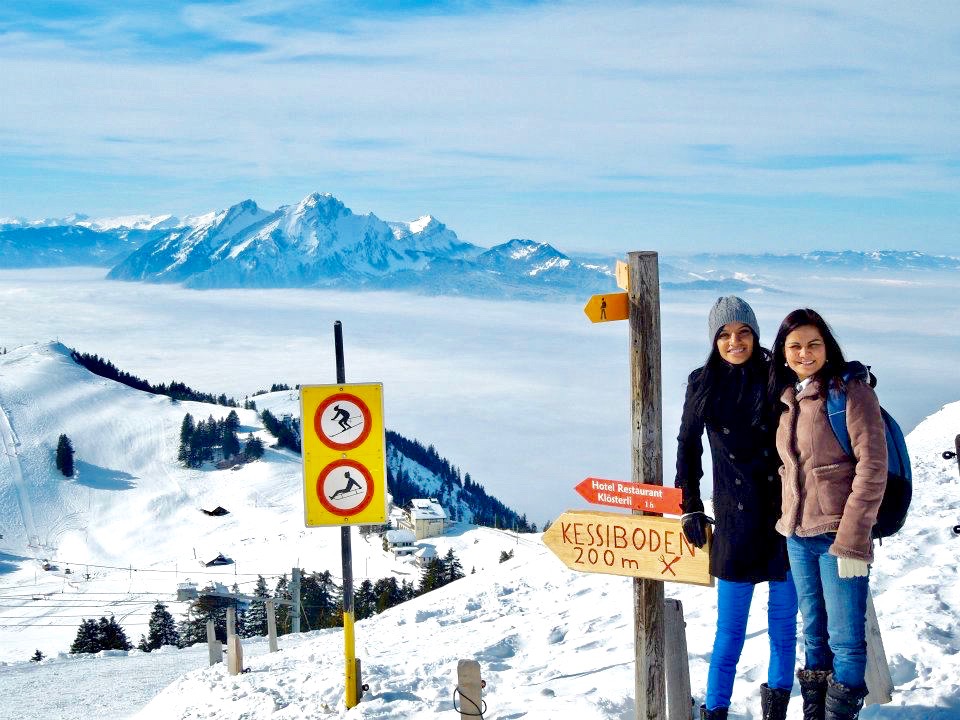 Me and my sister almost at the summit area of Mt. Rigi at 6000 ft and 1800 meters.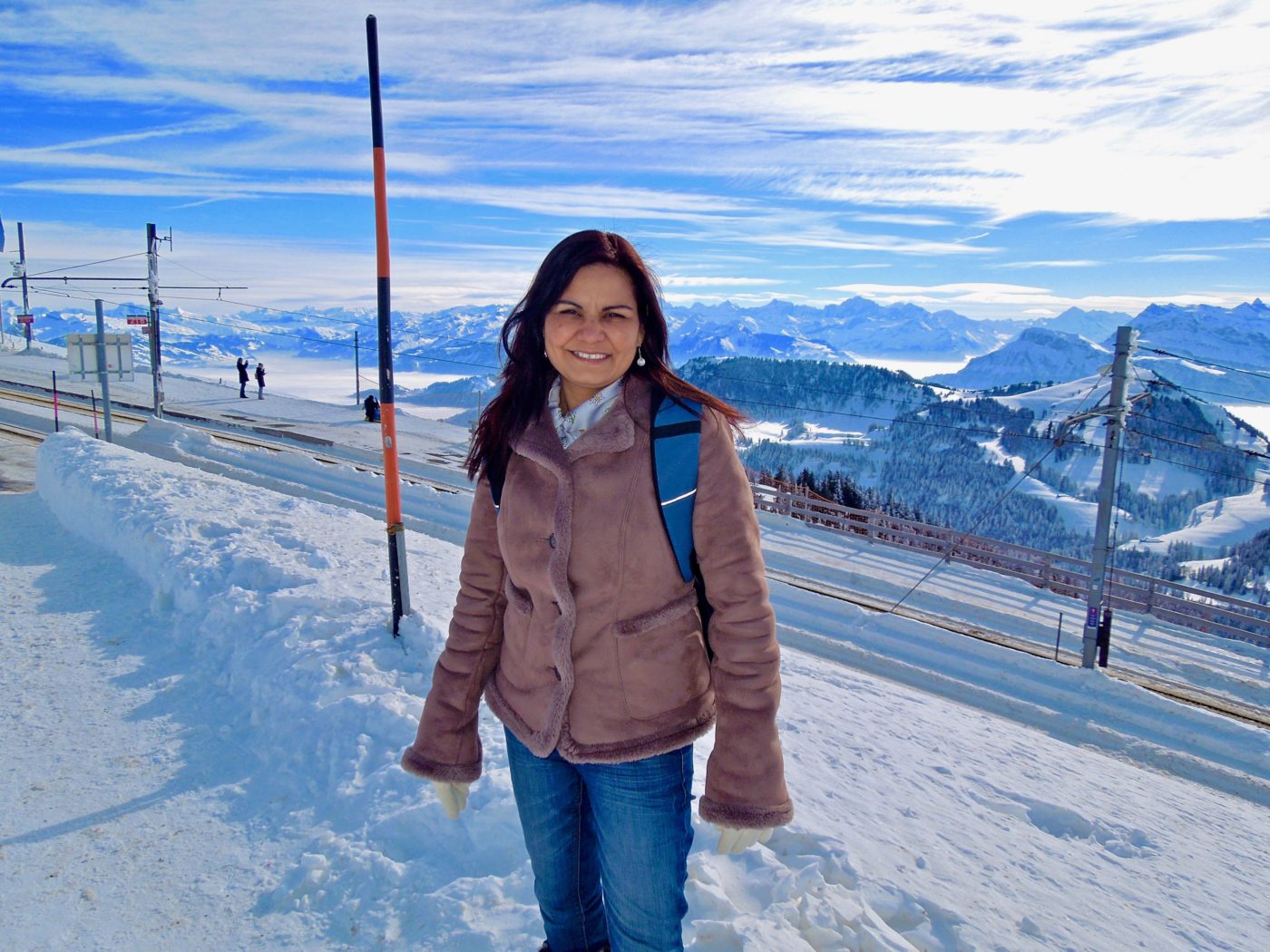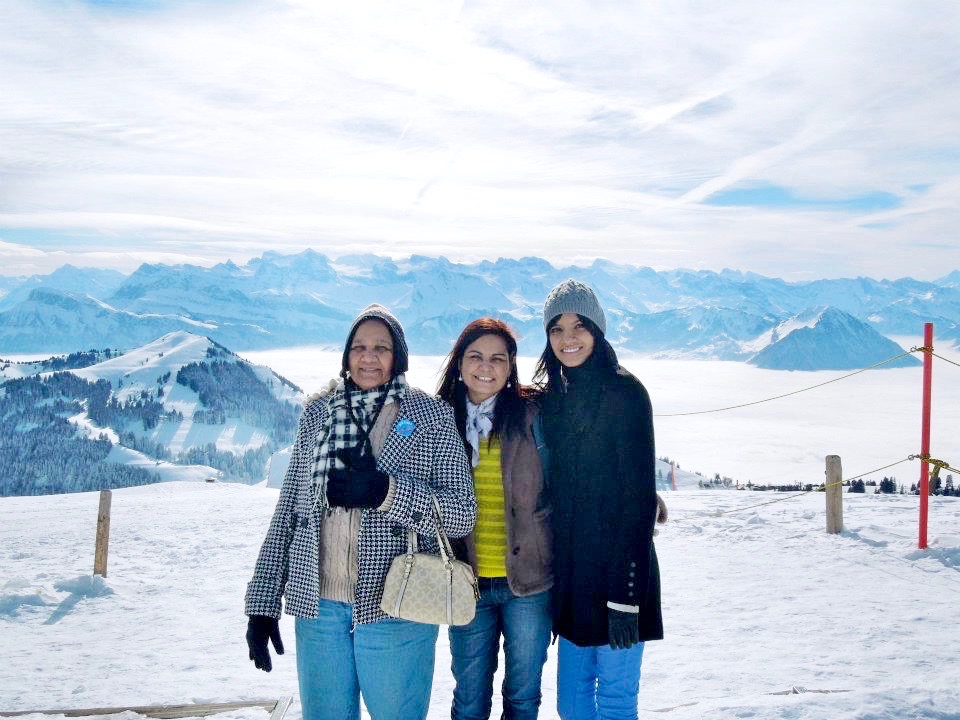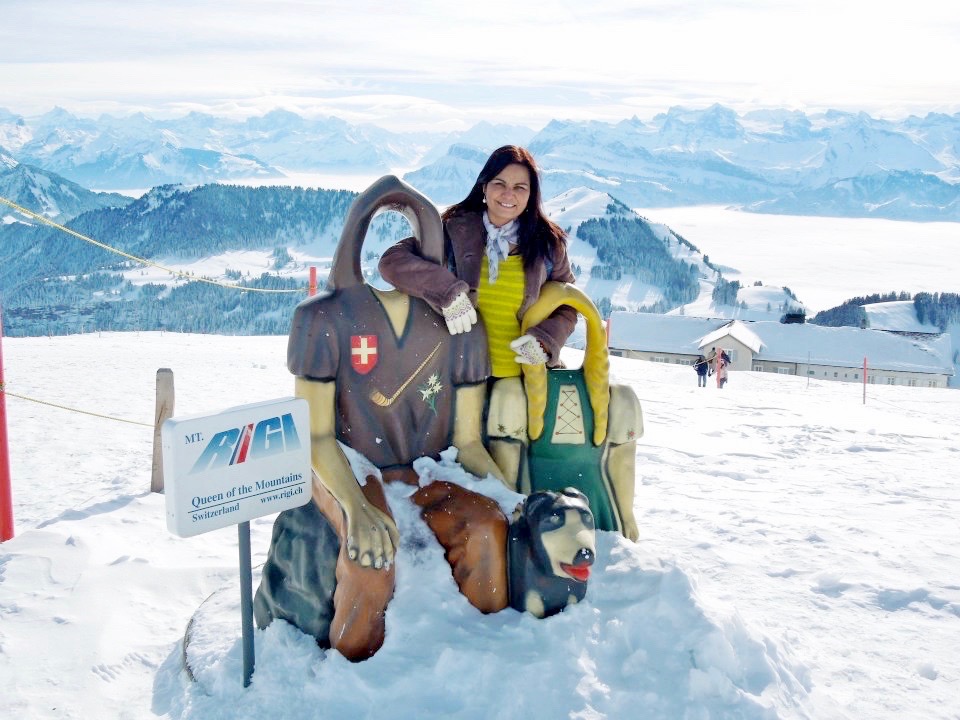 We walked around and took a lot of pictures. We had 2 hours to explore the area. A lot of people in our trip group had lunch but we just enjoyed the mountains.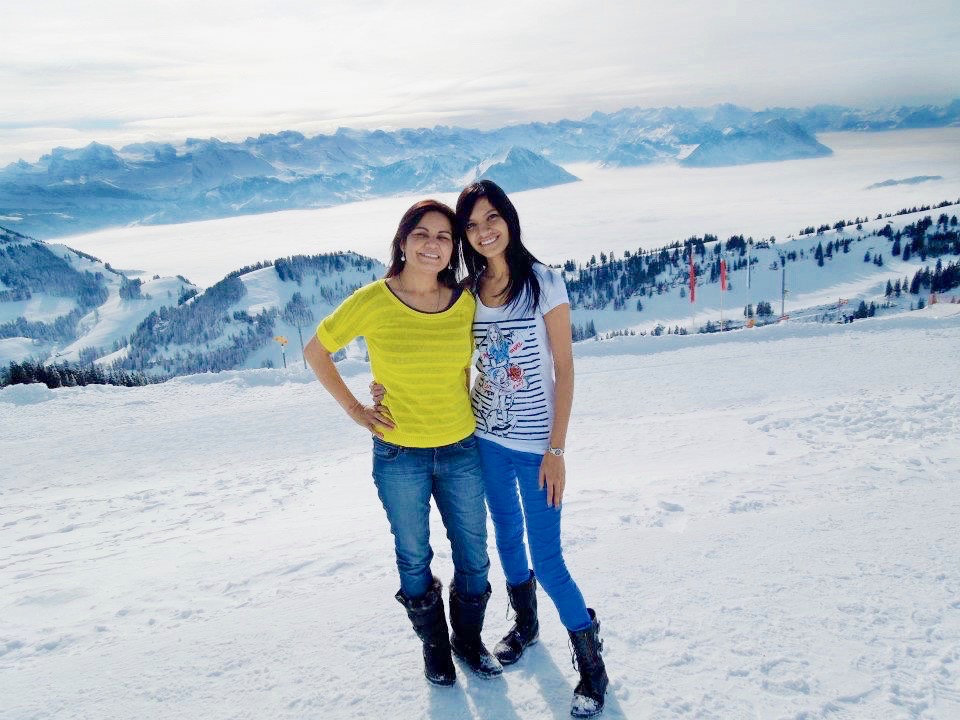 After hiking up to the summit and walking around under sun, we actually started to get little warm:). We were able to roam around without jackets for almost 10 minutes and took lot more pictures without any winter coat in midst of snow-capped mountains just to show off too. 🙂  That was so much fun.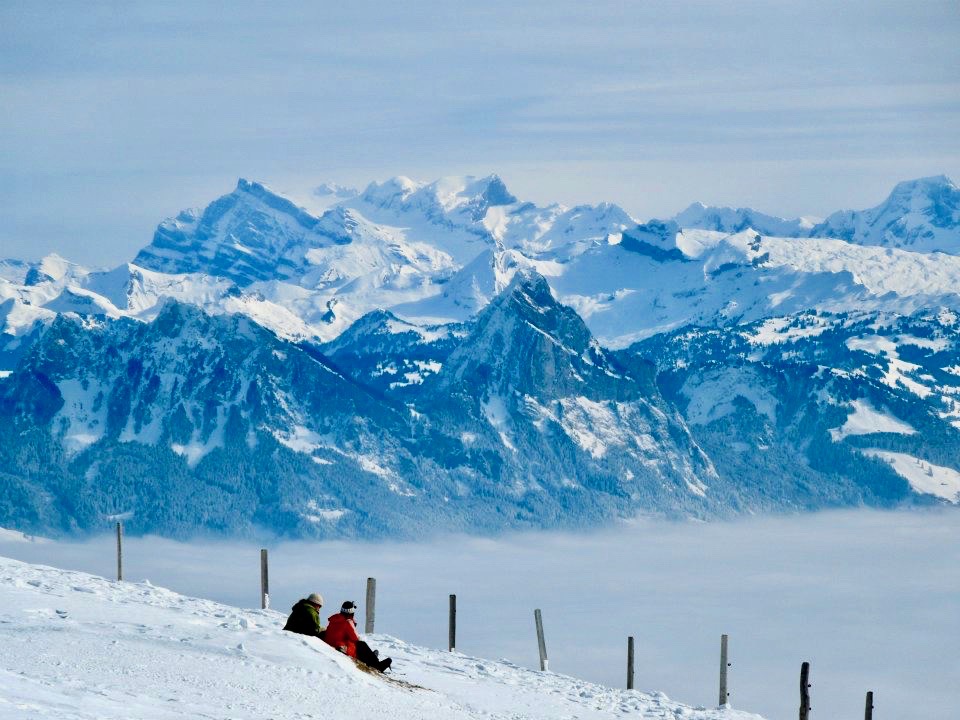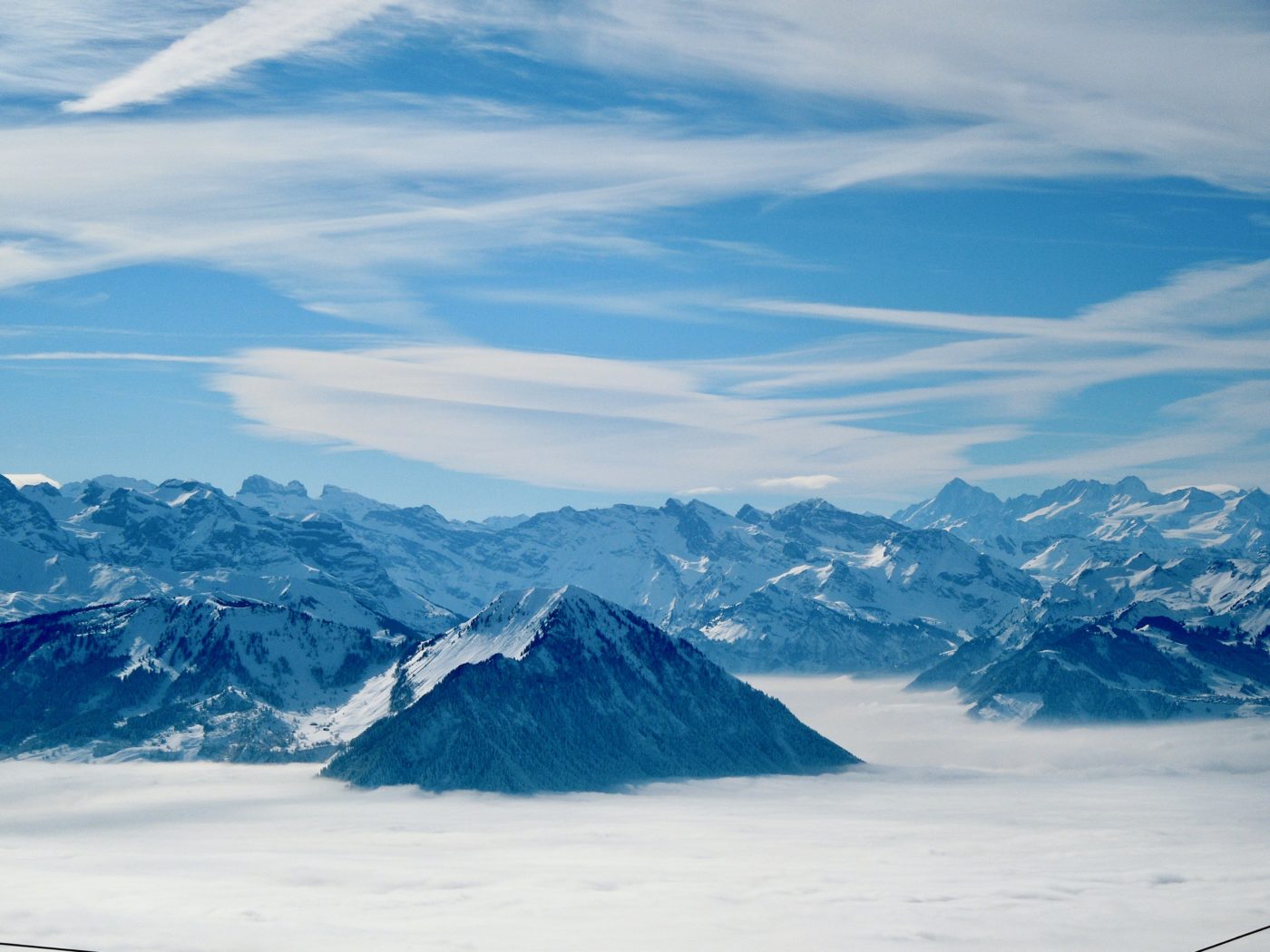 Then we stayed back and took more pictures and started to head down.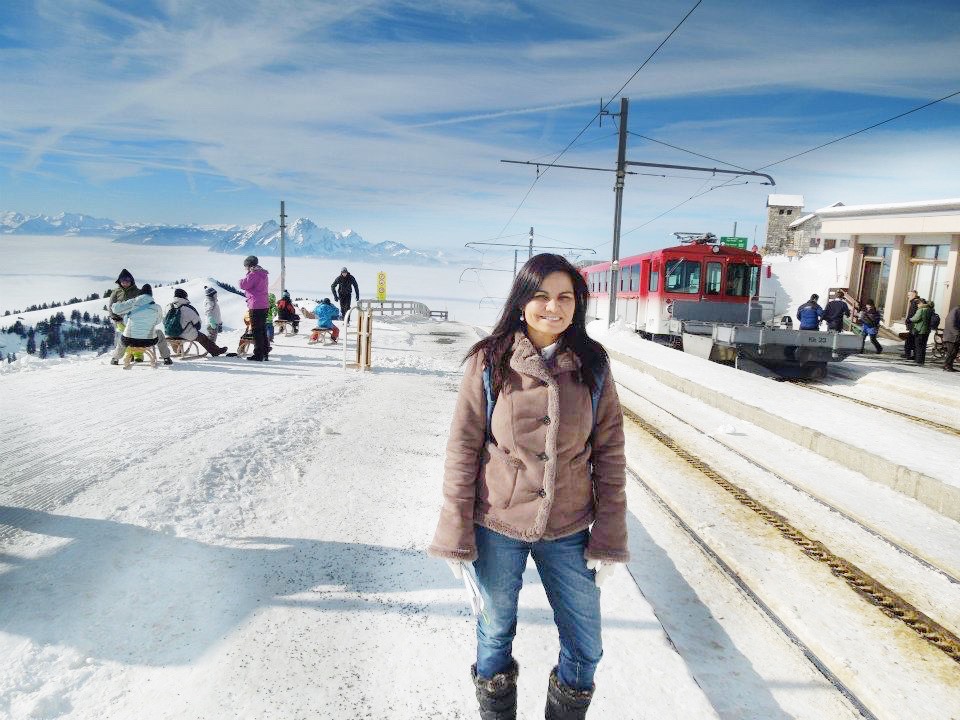 Now we are ready to board cogwheel train again down to Vitznau for a boat ride. Those were very nice memorable 2 hours there. 

4. Cogwheel train ride down to Vitznau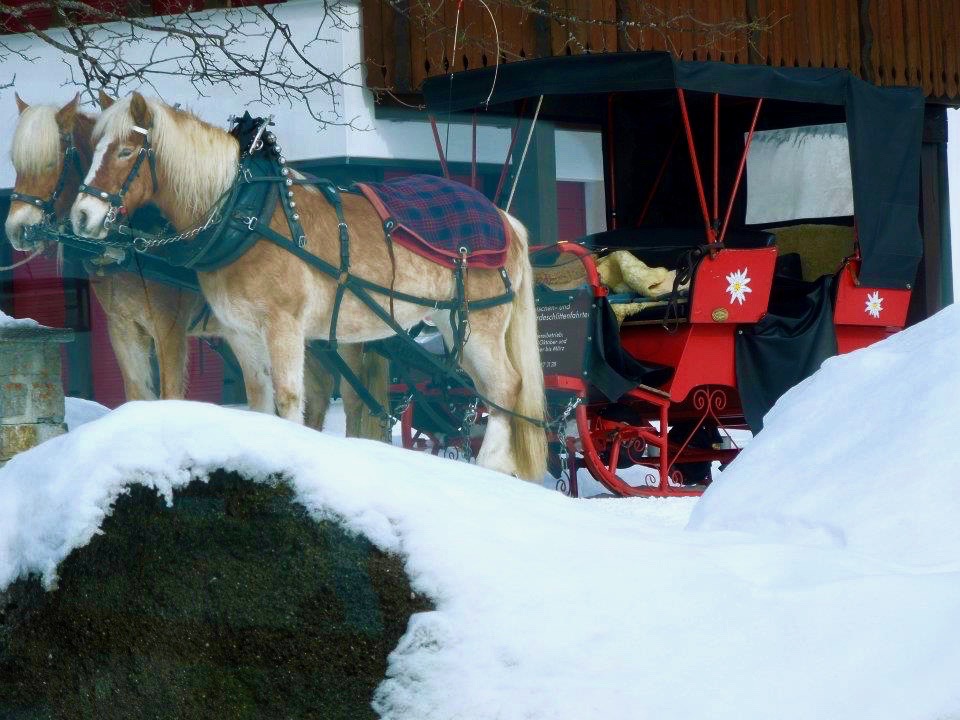 And then another picture postcard scenic ride started down for Vitznau.  Took this photo of horse drew sleigh ride from inside the train.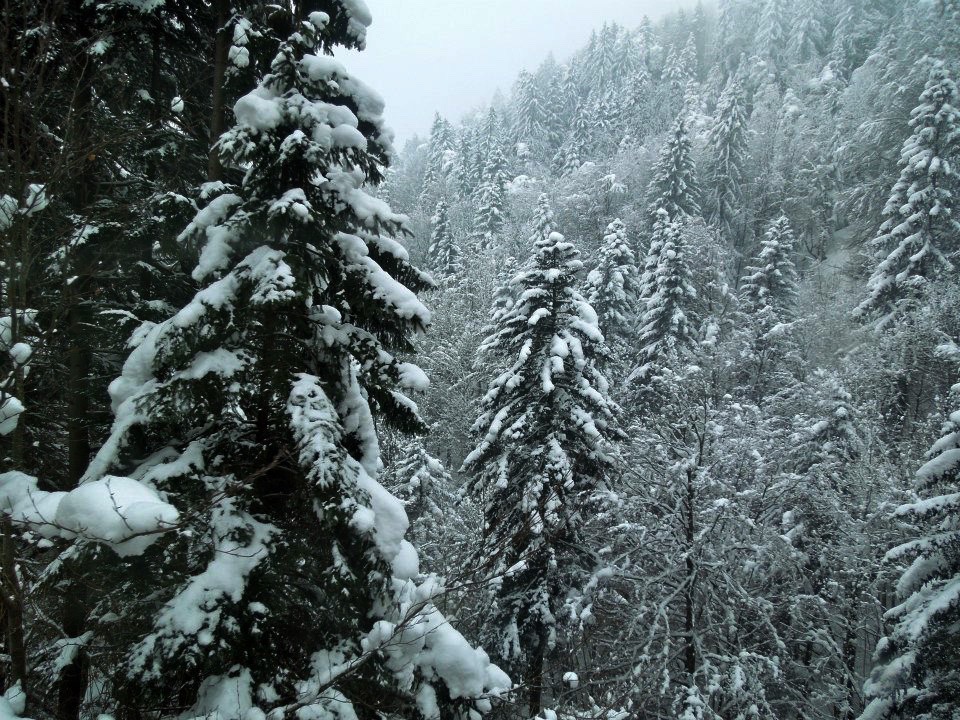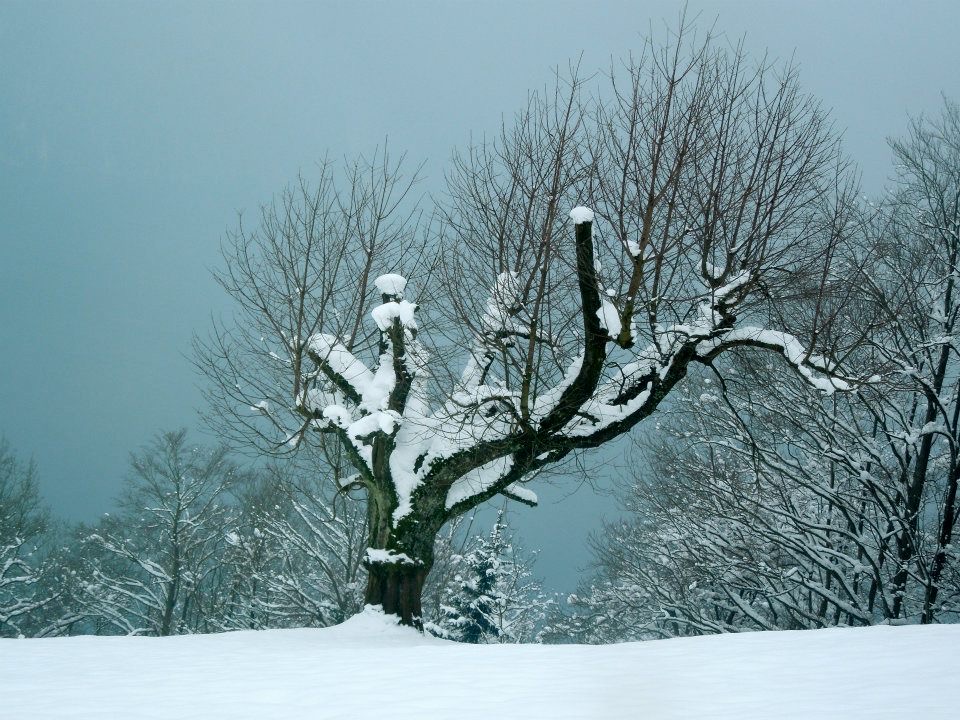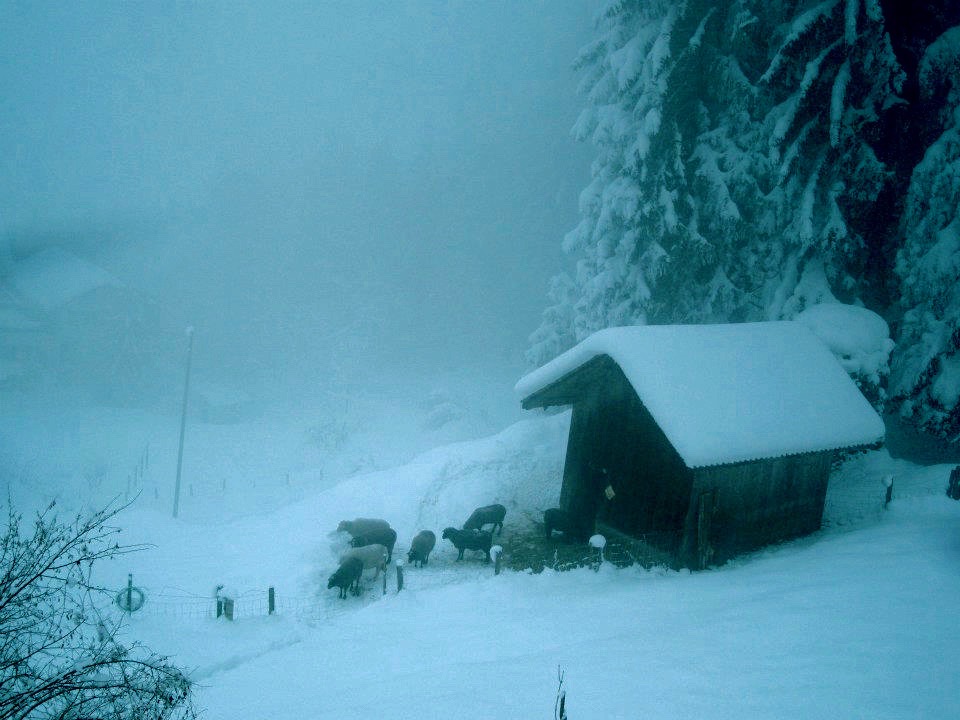 Did you see these cows? I was wondering if they were feeling cold or not and what kind of survival mechanism they have in place to live in such an extreme weather.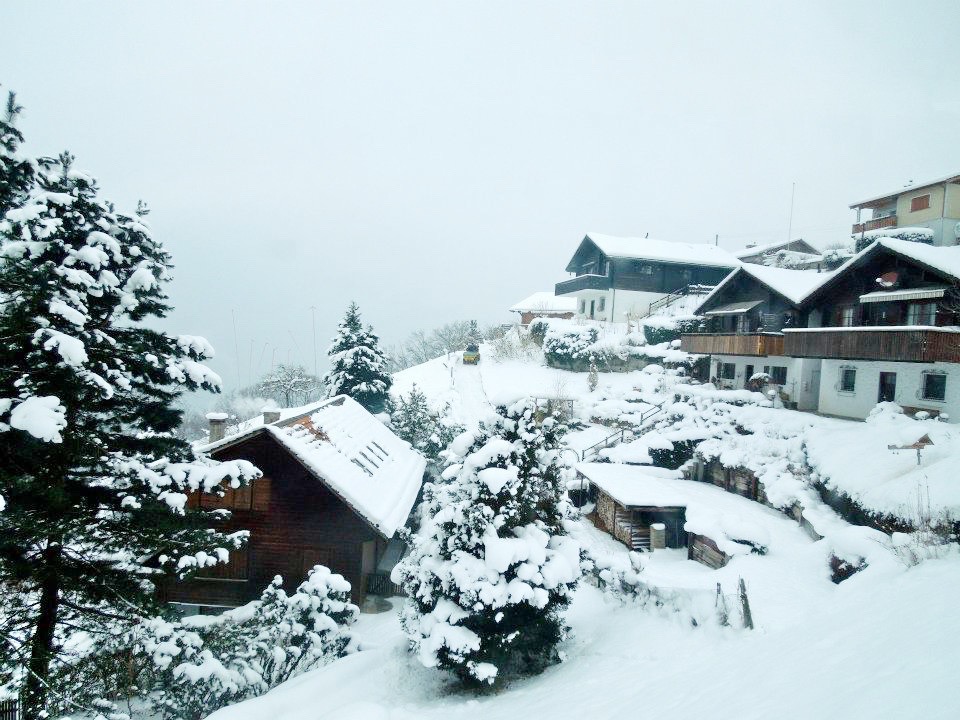 And then, we saw small cute houses and we were told to get ready as Vitznau station is approaching!!
5. Vitznau – Boat ride to Lucerne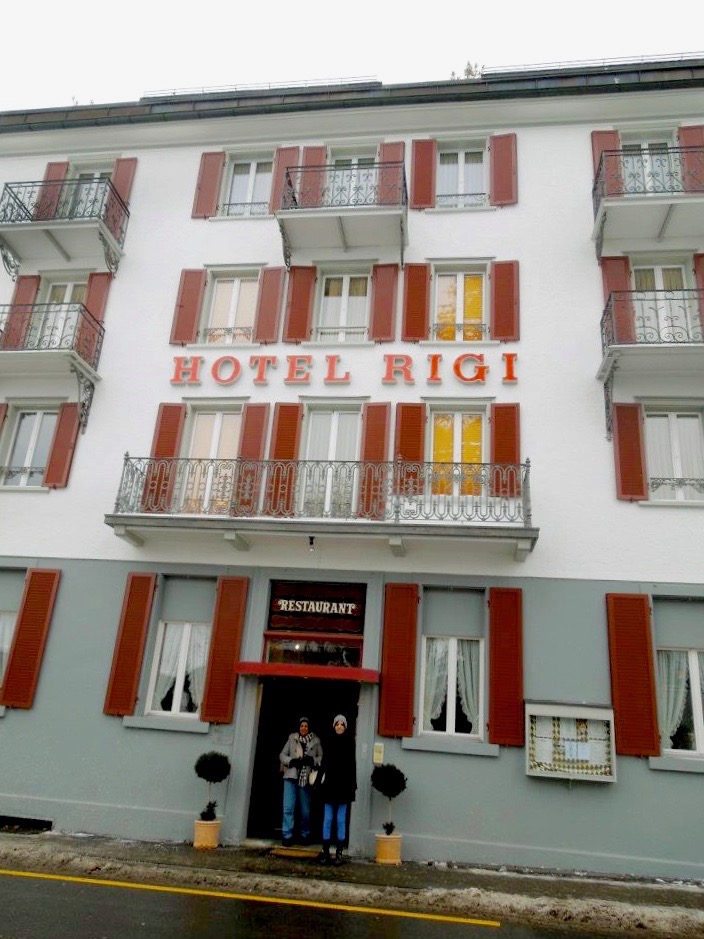 Since we were hungry as we had just breakfast in the morning, we asked our guide how much time we have. He told us maximum 35 minutes if we are last to board.
Hotel Rigi/Restaurant Rigi was kind of a minute from the station. We stopped by there and had the most authentic Swiss food.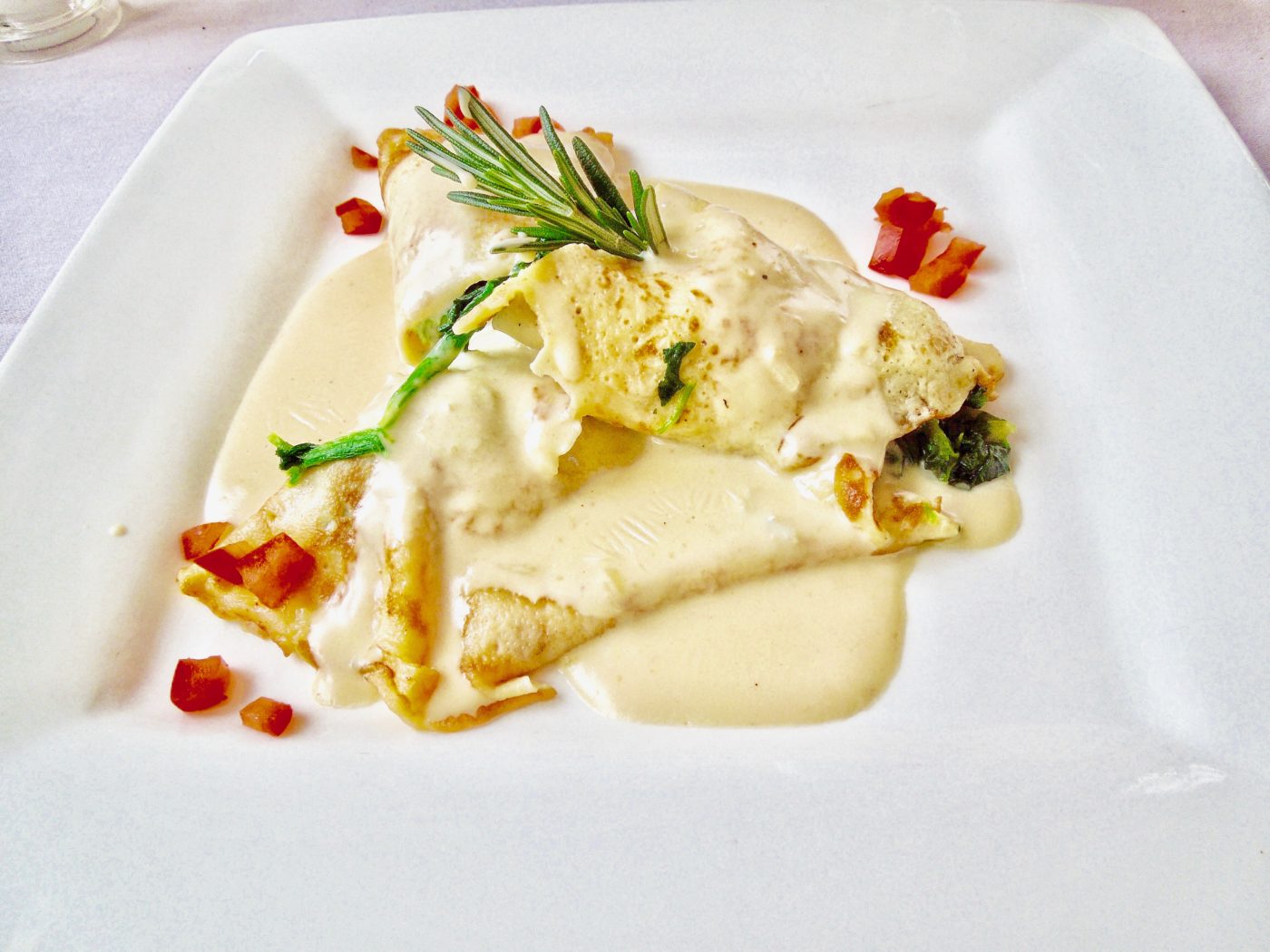 Cordon Bleu Swiss crepes at Hotel Rigi in Vitznau
People at the restaurant were very nice and friendly. I am a vegetarian and they quickly prepared 3 dishes for us and authentic Swiss cheese sandwich. Do you know that Switzerland is home to about over 450 varieties of cheese. 
And that's the cruise boat that will take us to Lucerne. It was a 1-hour boat ride on Lake Lucerne and totally enjoyed it.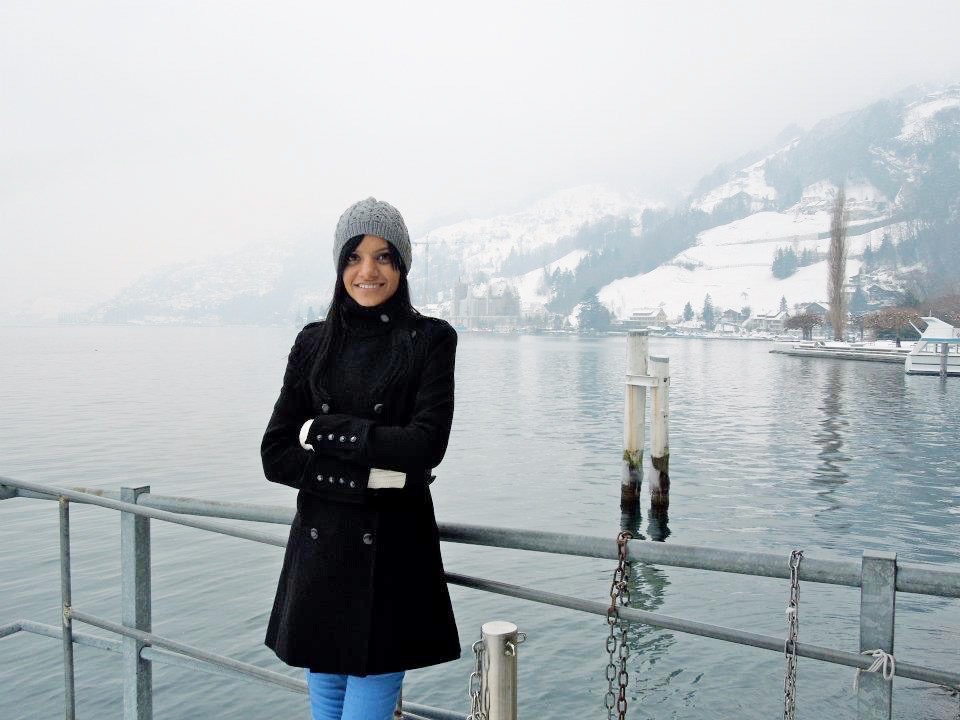 My sister right before boarding. There was food as well for purchase but I think, we had the best Swiss vegetarian food in Hotel Rigi. We had coffee inside the boat. 
6. Lucerne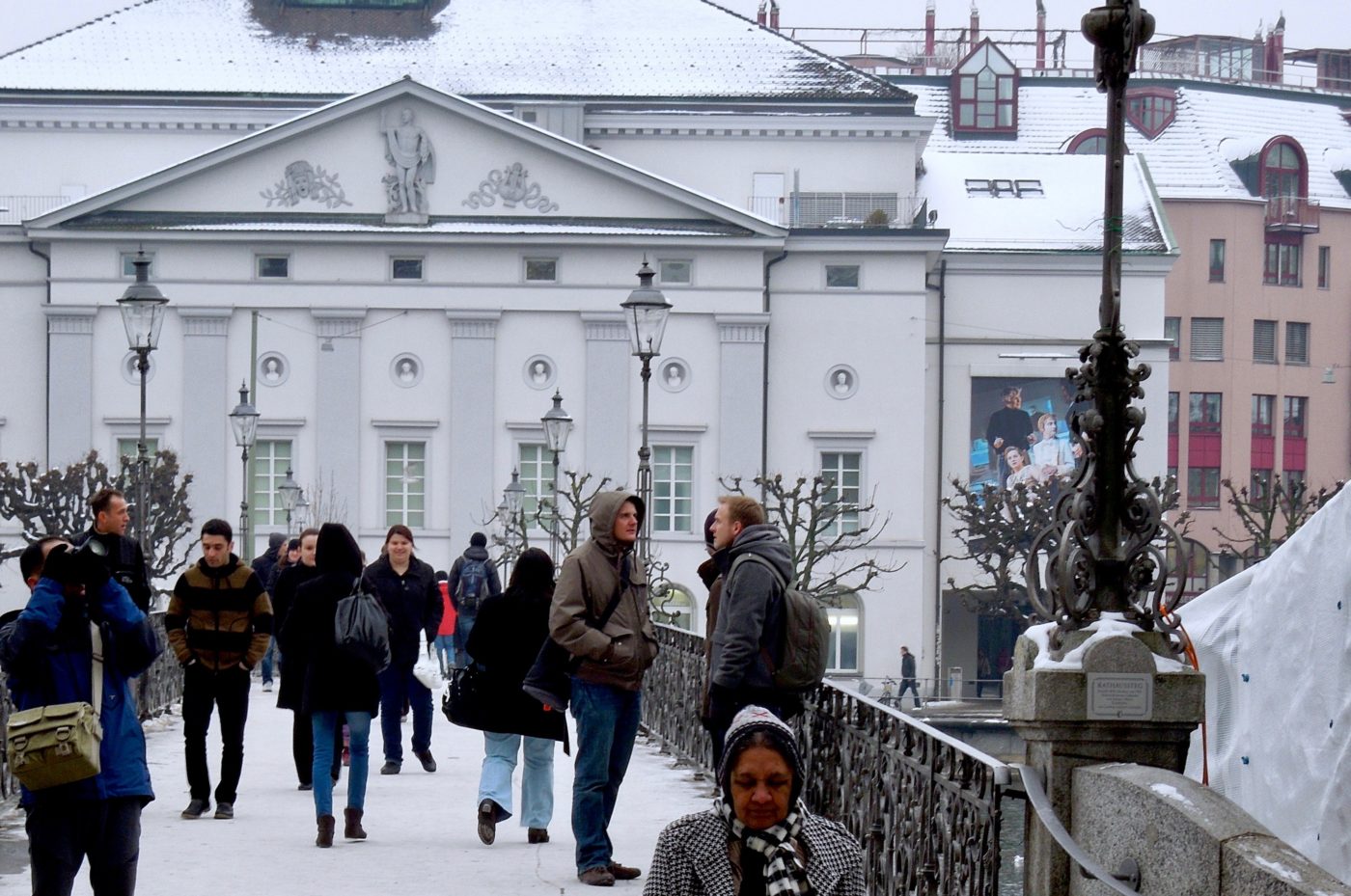 We were dropped off across this bridge and it had an old historic district with lots of shops on both ends. Weinmarkt area and across the bridge was Pfistergasse. Considering it was February, there were still a lot of people around.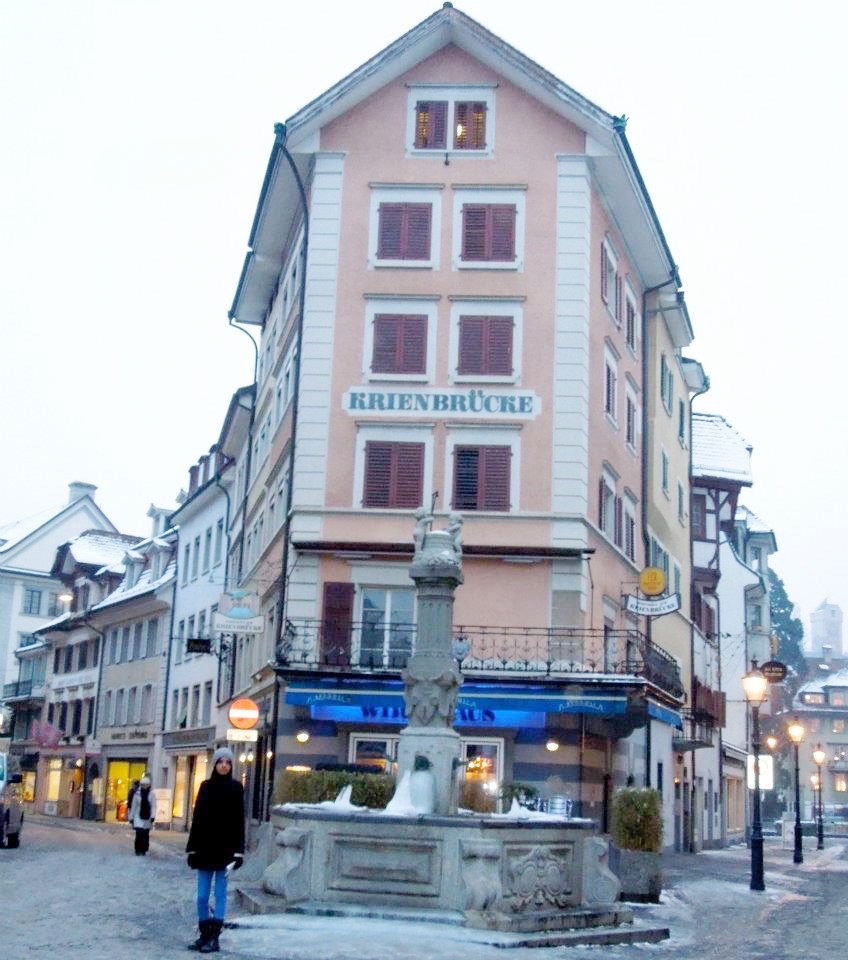 This was across the bridge where we were dropped off. It was also a nice kind of similar historic area the one before but different shops. We shopped little bit there for little souvenirs.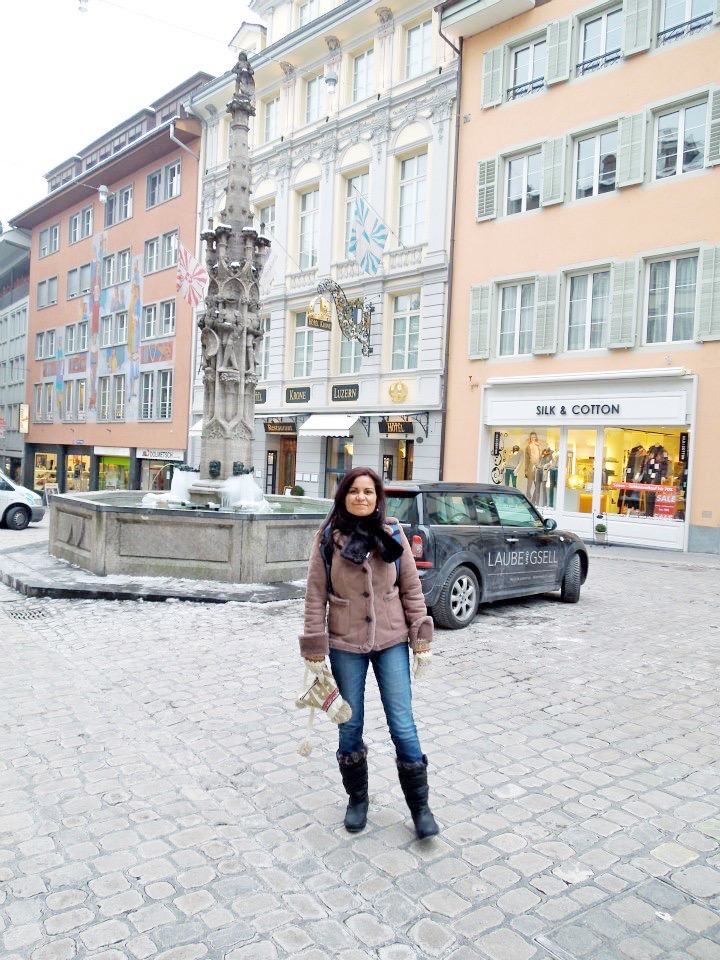 It was almost 5:15 when we were done walking around the area. There were a lot of shops and was a relaxing 2 hours.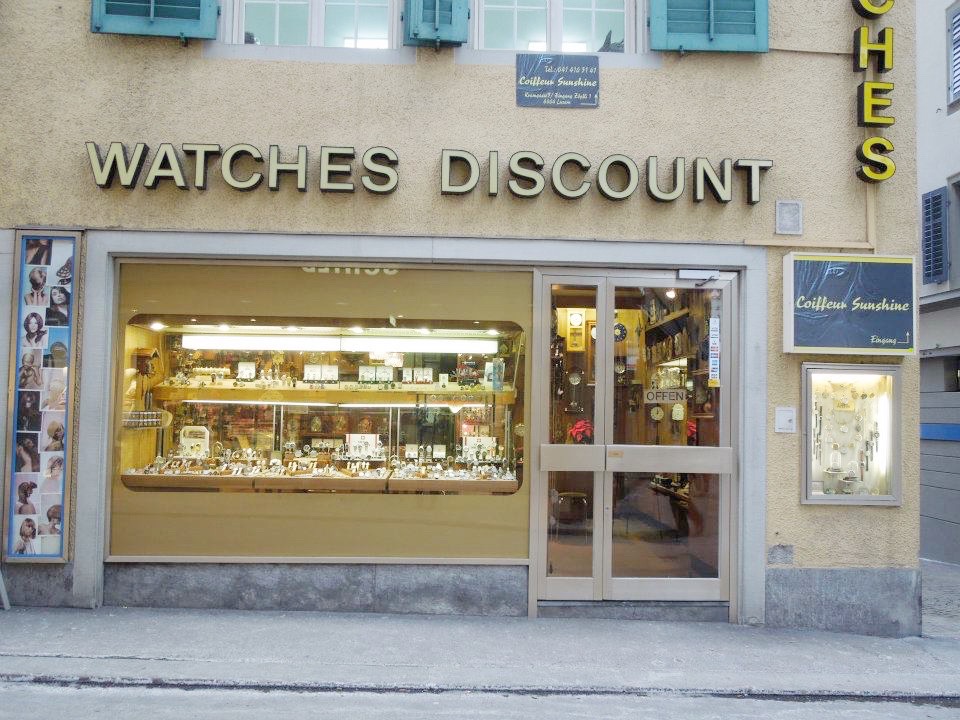 And we were supposed to meet outside this watch shop and we were there by 5:30 p.m. which was right by the bridge.  They said Lucerne has a good collection of watches with prices way better than Zurich.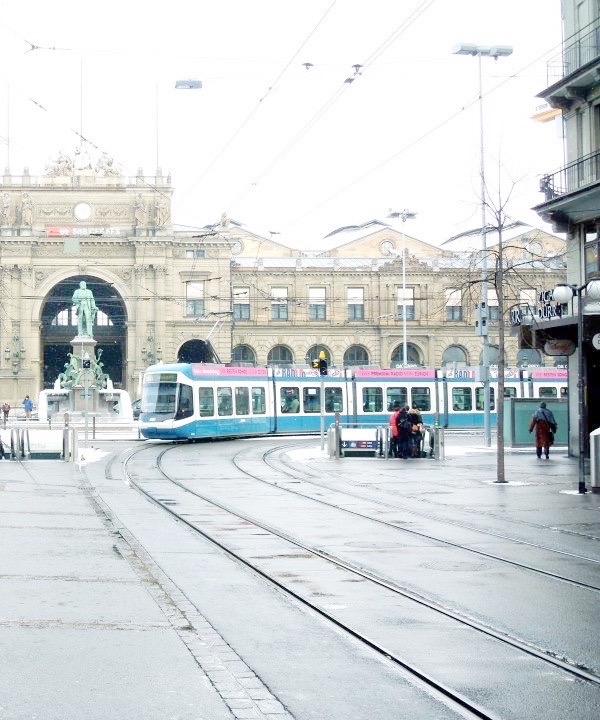 We were back in Zurich at 7 pm. This is the main train station of Zurich called Zurich HB. This photo was taken next morning as we reached in dark a night before. 
Thank you!! and let me know
Post on this Mt Rigi winter day trip Zurich became so long and hopefully, it will be useful to some. So, I had a wonderful time writing this post reminiscing about my trip that I took almost 6 years ago. I hope you all have enjoyed reading this and would love to know in the comments section your thoughts on this trip and post as well.
So share this post with others and on Pinterest. Connect with me via my social icons below or tag me in your pictures of Zurich, Lucerne or Mt. Rigi trip on my Instagram account @modlotus.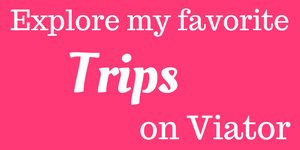 Related posts: