Super easy decorated cupcakes for any occasion, and for a creative birthday cake ensemble!!
Dear all, Hope you are all as excited about the holiday season as I am. I have always loved the holiday season for that non-stop socializing and holiday vibe. For me, cupcakes are an easy choice for social gatherings and with work colleagues. Today, I thought I will share a few of my super easy decorated cupcakes photos and birthday cakes that I made for my nieces using mini cupcakes. I attended Wilton's cake decorating classes at Michael's many years ago, so a few photos are from that class only. 
A lot of these decorations are super easy to learn. Even if you have never decorated any cake, you can also learn easily and surprise others with decorated cupcakes, trust me :).  So just enjoy looking at these pictures. I have included Wilton and YouTube tutorials for some cupcake decoration as well.
THIS POST CONTAINS AFFILIATE LINKS, SEE DISCLOSURE /FULL HERE 
Baking cupcakes
I am not a professional baker and the photos will tell you that. I baked these cupcakes from a cake box mix and simply followed directions from the box. I was having difficulty removing these cupcakes from a regular metal cupcake baking pan, but switching to a  silicon cupcake baking mold has made it much easier. I fill 2/3rds of the mold with batter for a nice round fluffier look :). Cupcakes just pop out of the mold and I don't have to use liners either. Just grease the bottom and sides or use cooking spray. I use Lisa's cake release recipe from The Bearfoot Baker when I am using a metal baking pan. 
Best thing for newbies – 

Wilton

dessert decoration set
I was just looking for Wilton tips, and I came across this Wilton dessert decoration set for just $8 on Amazon and for $6.97 at Walmart available in store as of today. If you don't have any experience or have no cake decorating tools, then this is a very nice set to show off your creativity. When I am in a hurry, I actually use only three Wilton tips – Star tip (there are many, but 18 or 21 is good enough), Petal tip and Round tip. This set has more than that.
There is a lot of variation in sizes of these tips, indicated by different numbers; but they look the same. Take a look at the pictures for a better view and click on first two pictures for Amazon link and a larger one below for Walmart.
Star tip decoration on a cupcake – tip no. 18 or 21
As the name suggests, it adds a star like or shell-like decoration. If you Google shell decoration- you will see pictures of the most commonly used border decoration on grocery store cakes. 
Here I have used a star tip to make bluegrass 🙂 – all you do is as soon as you make a star, you pull up icing bag/tube slowly. I tried to make a shell design (second picture) and mini stars (third picture) as part of my Wilton cake decorating class at Michael's :).
Here are a few useful links:
 Believe me, it is pretty easy. Let your creativity flow on cupcakes or cakes this holiday season.  
Petal tip
I decorated these cupcakes last year when I joined Michael's basic Wilton cake decorating classes. I also used a round tip to make small pearl drops.
Here are some useful links:
Useful video to pipe a petal using the petal tip 
An excellent tutorial from Wilton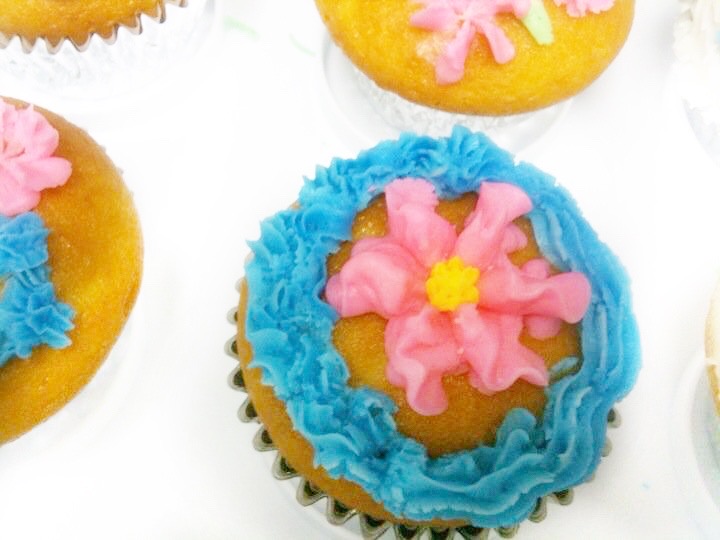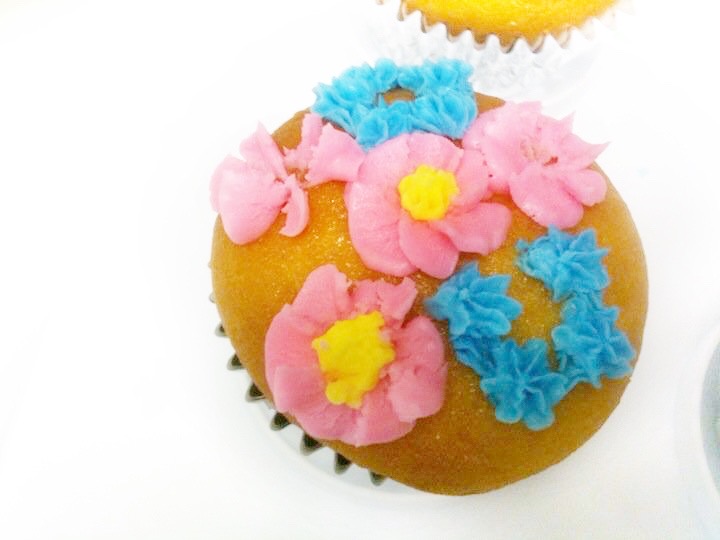 Cupcakes for the class
Here are all my cupcakes that I decorated at the end of class. :), I know these are pretty basic. The green color you see is my attempt to make leafs, just so you all know.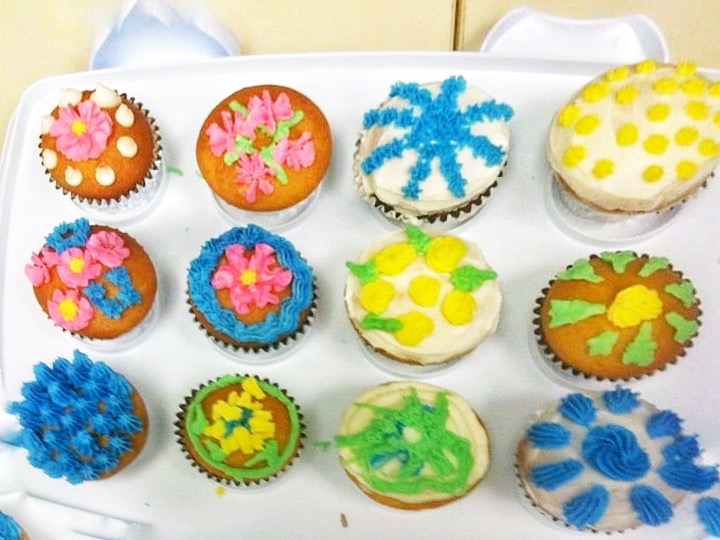 And this year…….
Round tip
I used a round tip to decorate these cupcakes, which does not require much of a skill, but gives a nice decor factor to the cupcake. This tip also comes in many diameter sizes. It's the easiest one to use on any cupcake.
Whipped cream frosting from scratch 
The whipped cream frosting that you see on these cupcakes below is actually made from scratch by me. Hopefully, I will write a blog post on that too later.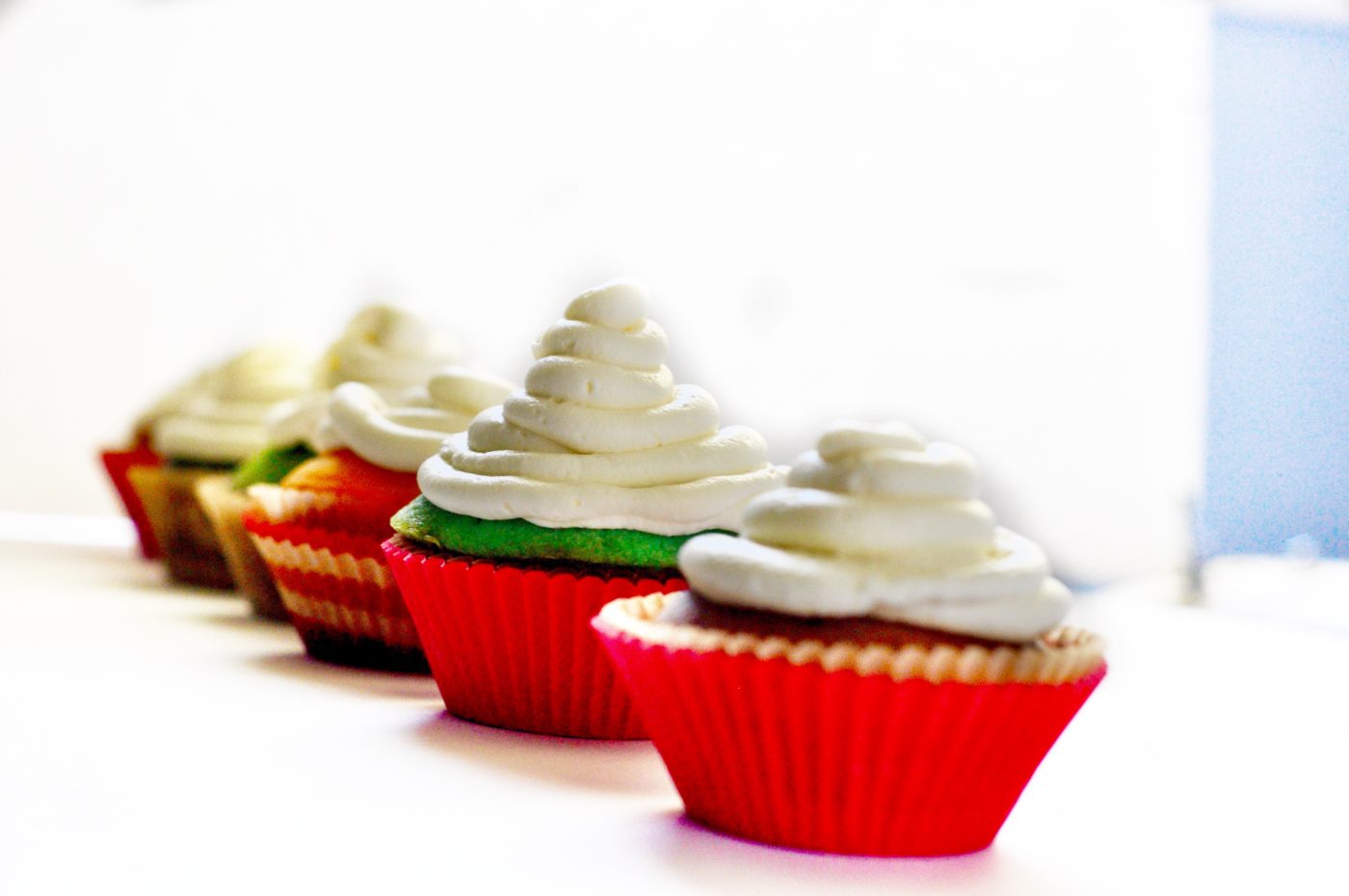 Food color to cupcake batter 
I added Wilton's food color to batter to give some color and then used vanilla whipped cream frosting. These food colors are under $4 on Amazon as of today. 

Some useful link to recipes from other cake blogs
Chocolate, Red wine pot de creme  An excellent, easy holiday recipe of chocolate pudding by Allie from baking a moment
Classic vanilla cupcake  great cupcake recipe by Tessa Huff from Style Sweet CA 
Funfetti Cookie cups recipe   Another fun and unique recipe by liv from liv for cake
Cupcakes Birthday cake
Here I actually made mini cupcakes and decorated them individually. After decorating, I just made an alphabet M for my niece's birthday and number 6 for my other niece's birthday who turned 6. 
I just wrapped the brown cardboard with gift wrapping paper to make a cake board.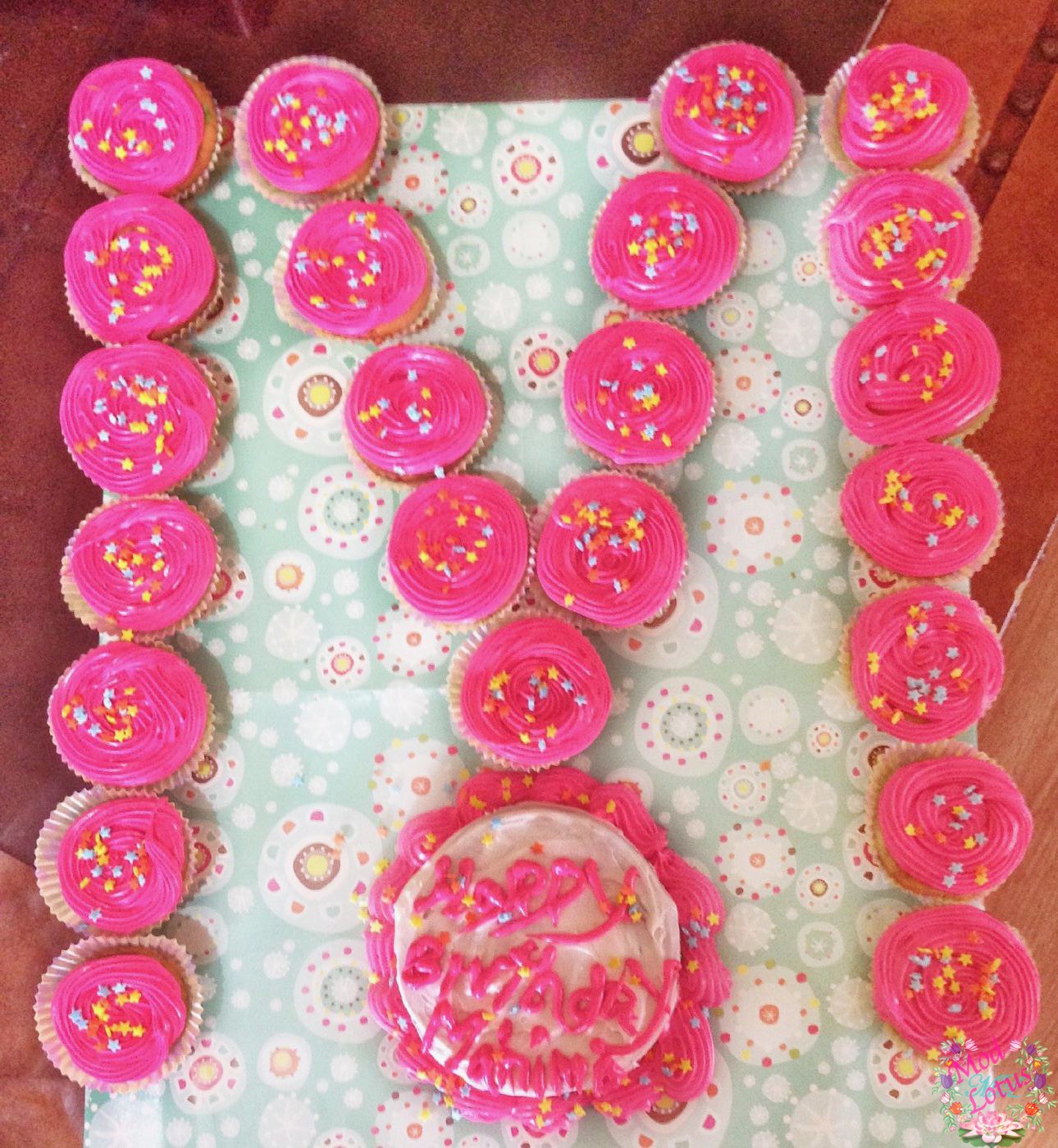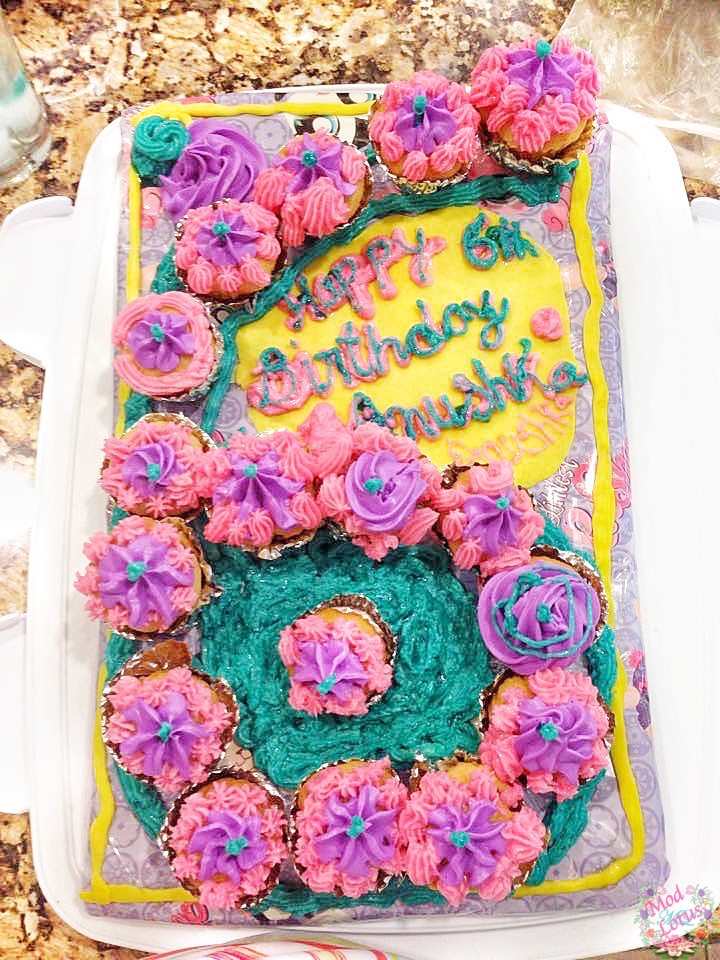 Thank you!!
Thank you for your time and I hope you all enjoyed reading this post. Please feel free to share this post on Pinterest or Facebook or Twitter and I would love to read your feedback in the comments section below.
Also, please do connect with me via my social icons below or tag me in your pictures in Instagram @modlotus.   Read 'about me'. 
I am working on my next week's post now on a winter trip to Zurich!!  If any of you has travel plans for Zurich area this winter, then my next Wednesday's post will be worth checking out. 
Have a great holiday season!!
Shop this post below for some useful items

Related posts: