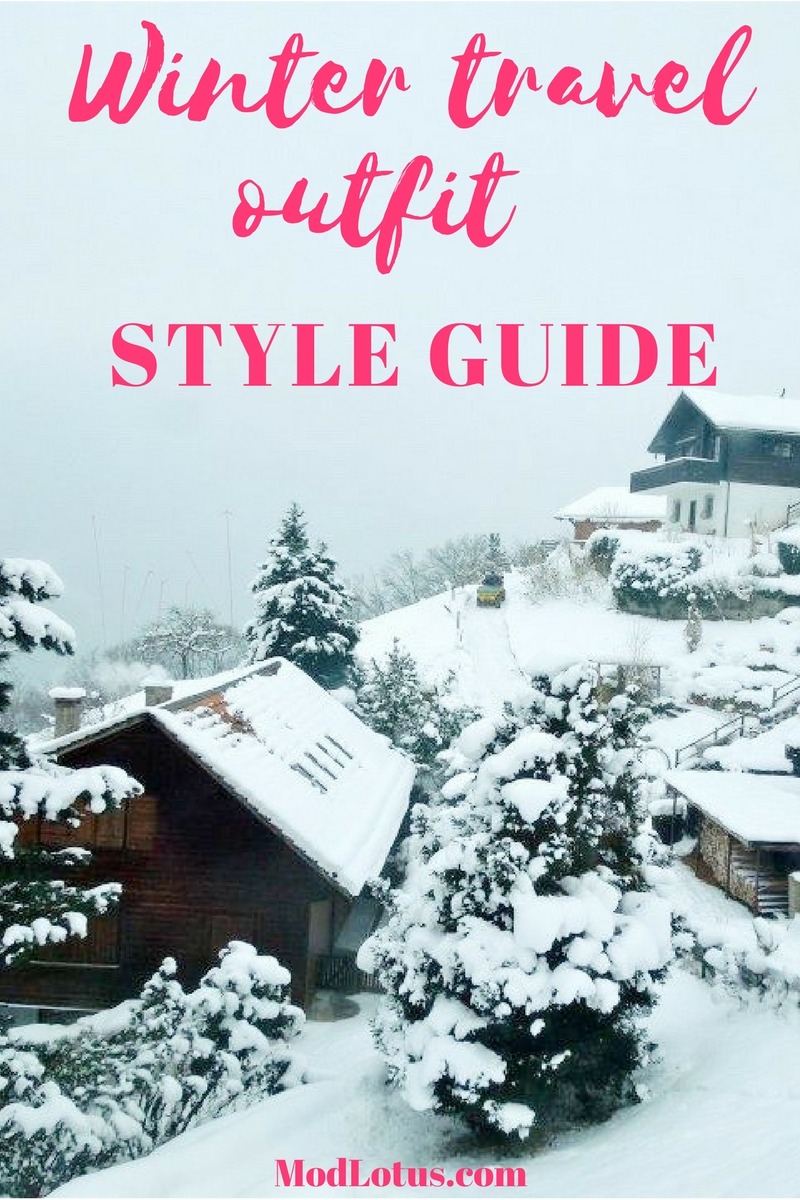 My Budget Travel outfits for Winter
Welcome to my blog and my first blog post for you all. Please grab your coffee or tea as this is going to be a long post :), maybe new blogger zeal that I got carried away :). After contemplating on what to write for my first blog post, I came up with this Europe travel winter clothes style guide after I have taken many winter vacations living in Florida for many years. So, I will share in this post how I pieced together few of my clothes for budget travel in Europe during winter month of November 2011 in London and 6 European countries in February 2012 :).
I traveled to London in November 2011 and travelled with my Mom to 6 different countries with just one carryon for each of us in February 2012. Cold weather did not stop us from enjoying different cities and we faced fewer crowd and way cheaper hotel rates.  I have included 12 photos of me in 6 different countries with 12 outfits and I call it my Europe winter travel outfit ideas. These pictures are kind of old but I guess few things never go out of style. To be frank, I have not shopped much lately in last few years.  Here are my twelve outfit ideas.
November 2011- London  
(Temp: 44 – 52 °F)
THIS POST CONTAINS AFFILIATE LINKS, SEE DISCLOSURE / FULL DISCLOSURE HERE 
1. A trendy well fitted nice black or navy blue blazer for light winter month
A versatile wardrobe piece that could come handy all from fall to spring. I have just one color of each and I wear over and over 😉 that I got from H&M. I think blazer right at the waist length gives a sporty elegant look for travel. 
Reading, UK ( on my way to Heathrow for Poland)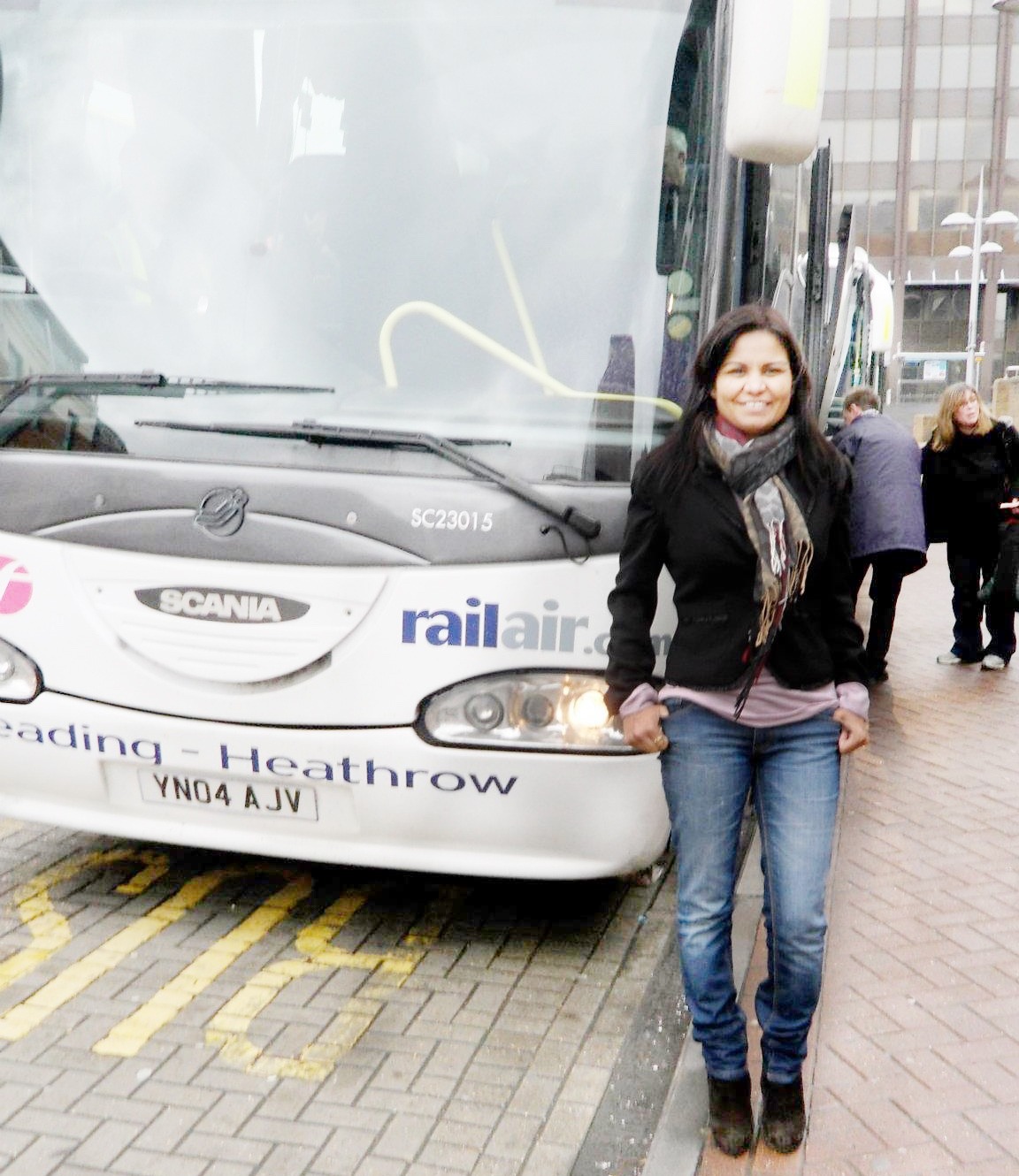 Shop my favorite blazers or jackets below 
2. Red or black well fitted reasonably long wool or Trench Coat
A well fitted long coat in red or black goes with almost everything and at the same time looks sharp on any given day. I bought my red wool coat from Victoria's Secret when they used to sell outerwear 🙂 and wide belt black trench coat (not in picture) from Mango store. I currently have 3 wool coats and one trench coat that I bought in Kansas City when I used to live there. 
Canary Wharf, London (strolling London's financial district area)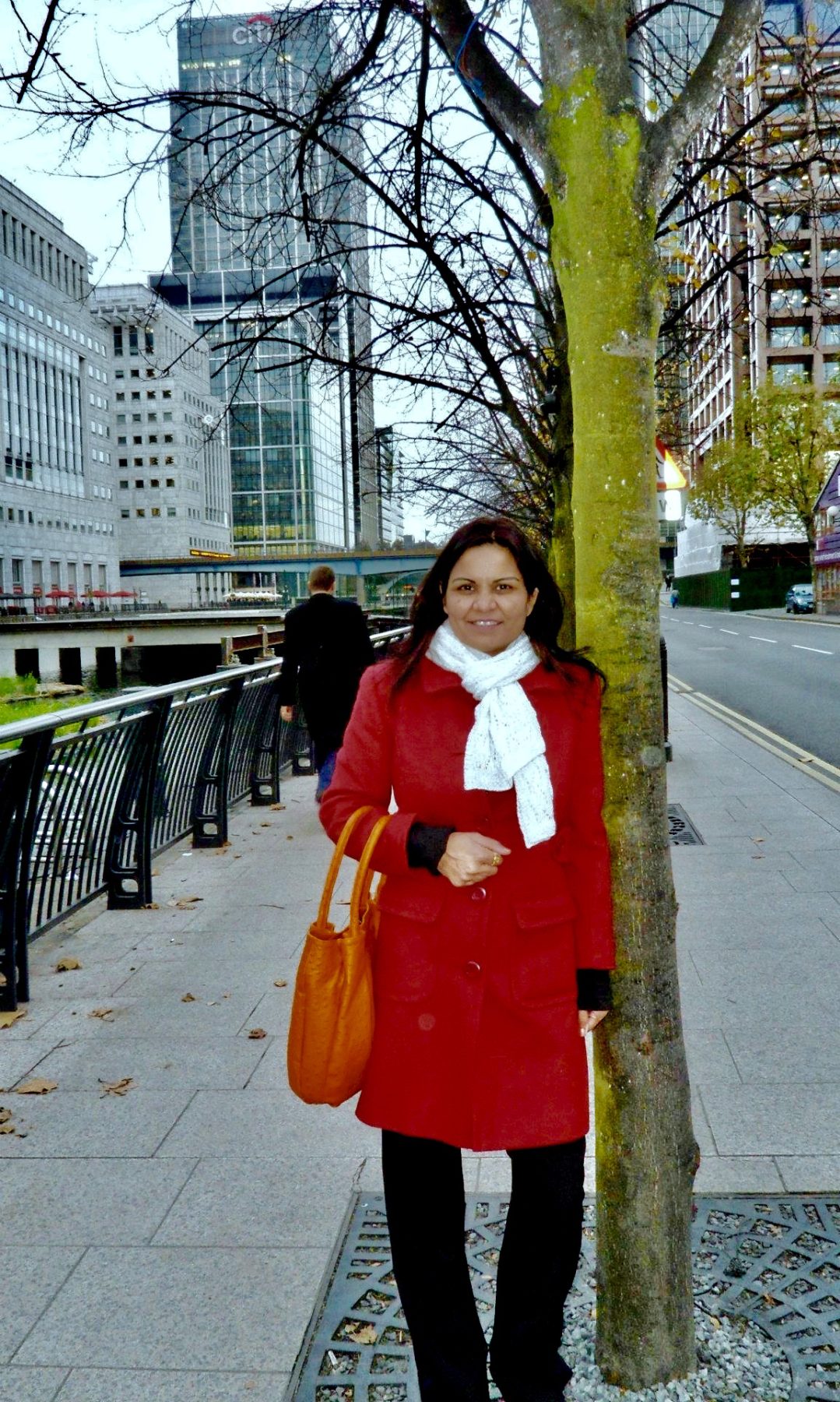 Shop my favorite coats below 
3. Nice comfortable sleek looking boots – Black/ Camel/ brown/ beige leather or suede 
If I were to take only one pair of boots, then my slightly heeled black leather boots are my favorite. They are very comfortable to walk to that I got from a closing out Italian leather store in Tampa. These "Made in Italy" leather boots are my trendiest pair that I wear much often though I have 2 other black and one in each color of grey, camel, and brown. But I got those during Black Friday sales. 
London, UK (outside Harrods departmental store)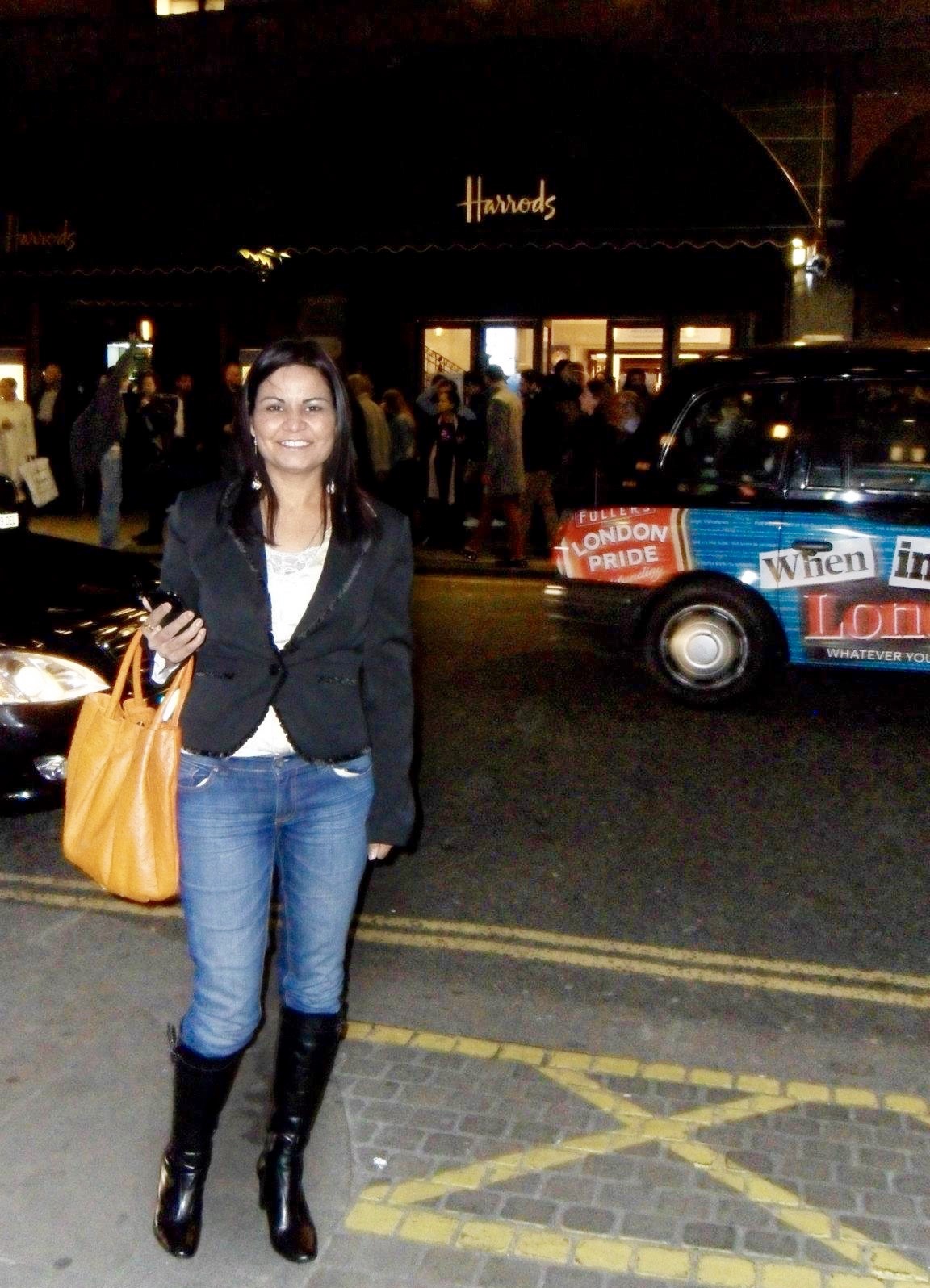 Shop my favorite boots below 
4. A lightweight silk or satin shirt for evening dinner or  night out
Nice chiffon, silk or satin shirt adds little glamour to winter travel wardrobe. I have few of these kinds and the best part is they don't wrinkle so ready to wear right out of the suitcase.
Leicester Square, London (UK)  Inside a restaurant in sparkling and bustling night life district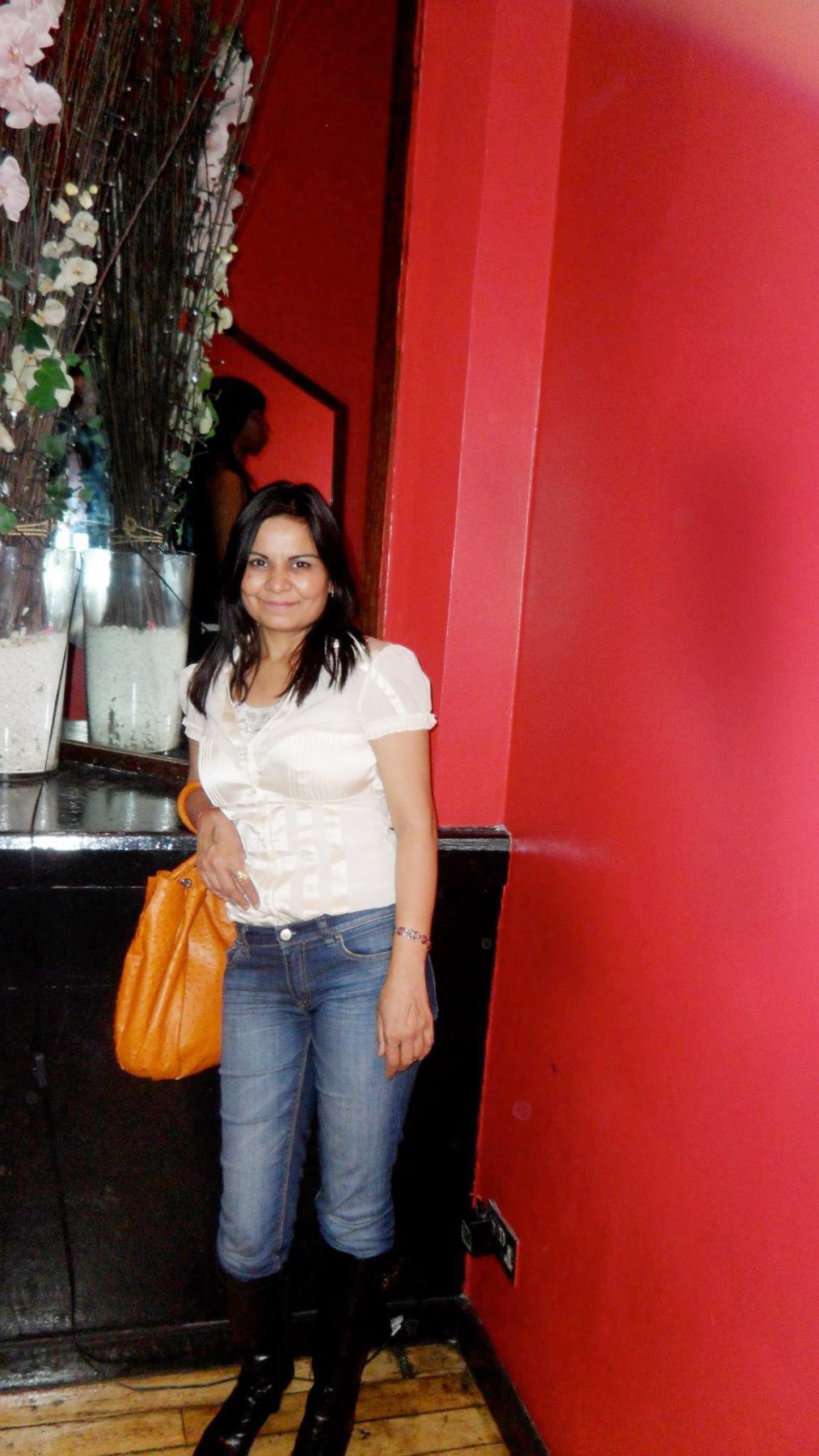 Shop my favorite tops below 
 Europe Travel – February 2012
(Temp: 25 – 40 °F)
5. Layering the clothes
Layers help to retain heat and create insulation. I learned it during my ski trips and it's a very useful trick. I always start with breathable cotton or high-performance athletic fabric layer to absorb moisture. My cotton tank tops or camis along with T-shirt of breathable cotton always make my base layer to absorb extra moisture. Subsequent layers are long sleeve T-shirt, turtleneck full sleeves and then add as much I need. Do I need any more of these layers :)? Here, in the picture below I ran out of space in my carryon 🙂 so I am actually wearing 5 layers plus my puffer jacket. I used thermals under my black pants as well. 
Pancras station, London (on my way to Brussels, Belgium)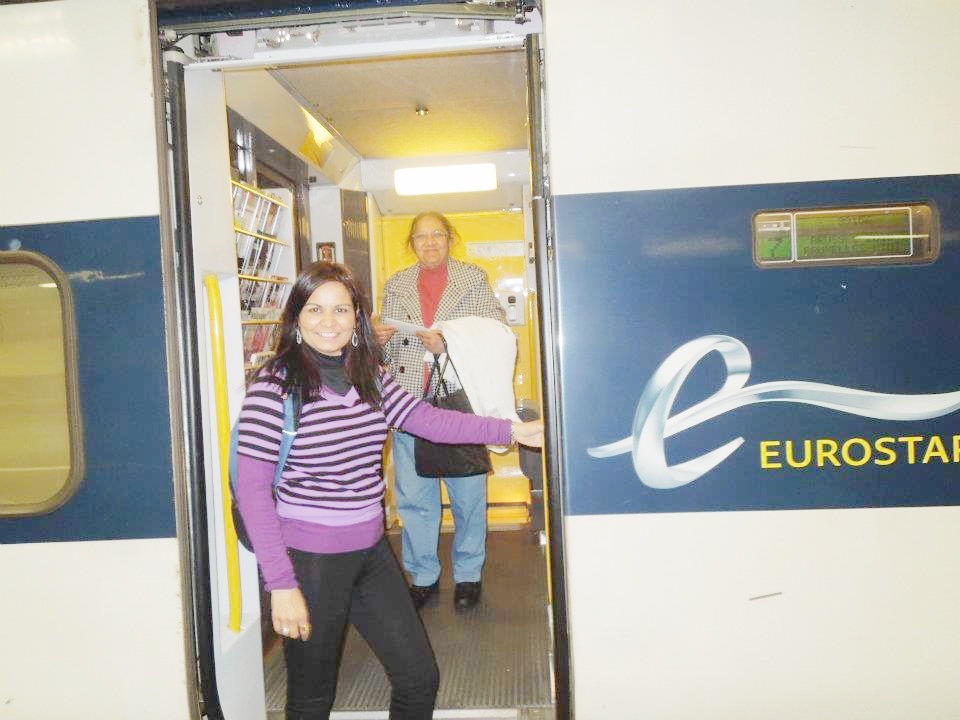 Shop my favorite base layers below 
6.  Puffer jacket
I love carrying a puffer jacket because it is lightweight and helps to retain heat. I have a white puffer jacket and it's the only one I have. It has helped me on ski slopes as well and pairs well with black pants and denim. 
Brussels, Belgium  (touring grand palace)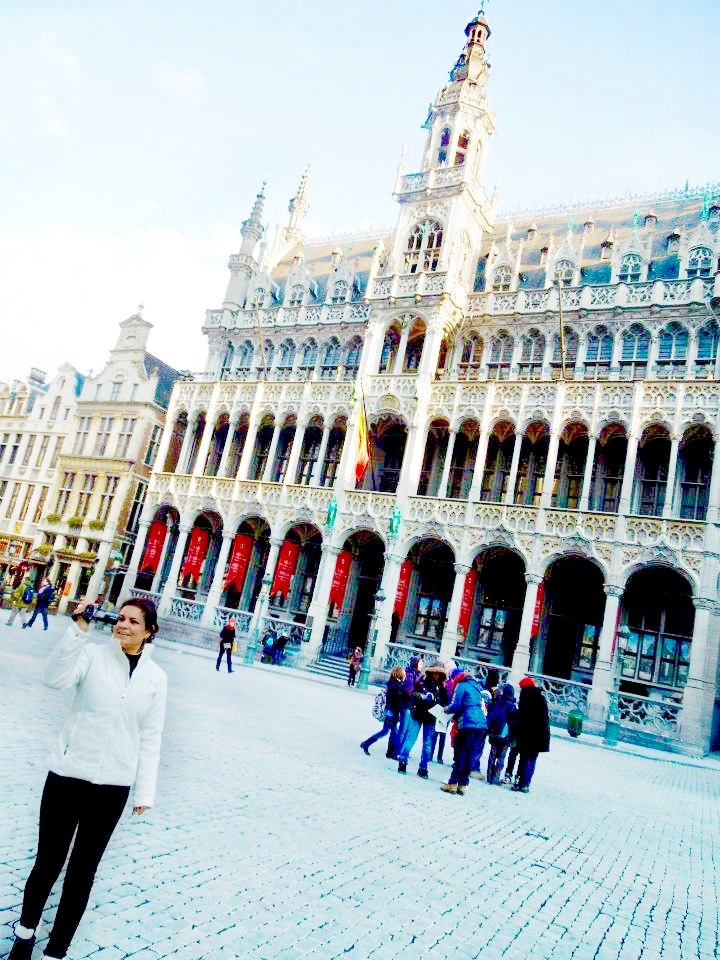 Shop my favorite puffer jackets below 
7. Colorful lightweight cashmere scarfs
Another thing that I like to carry is colorful lightweight cashmere scarf. I stay away from neutral colors and use a colorful scarf as it just adds the style factor to a winter outfit. I got this cashmere scarf from India :). Here, I am all set to get off the train at Amsterdam central station.
Thalys train, Amsterdam central station (all set to get off) 
Shop my favorite scarf's below
8. Two pairs of  good jeans and multiple lightweight thermals
I keep my carry-on light by just carrying few thermals and two pairs of skinny slightly loose fit jeans. One black and one blue denim seem to be the most versatile and can be mixed and matched with any color of boot or outerwear. 
Amsterdam, Netherland (inside Heineken Experience museum)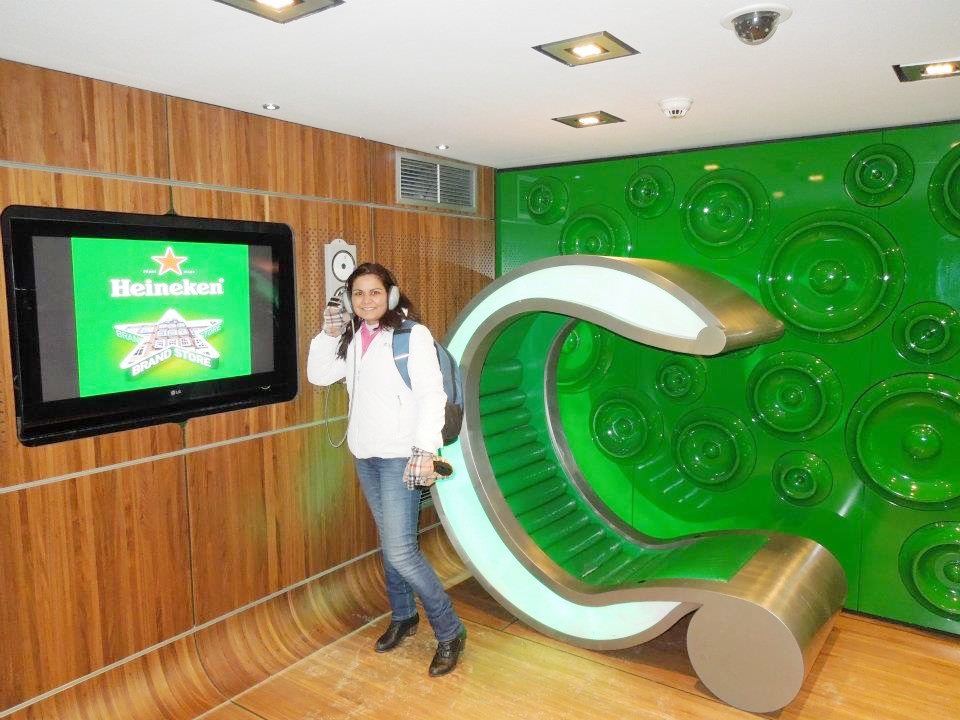 Shop my favorite jeans below 
9. Add color to outer layer either with lightweight soft fleece jacket or matching beanie and gloves set 
Pink is my favorite color and I like to add this color to my outfits as much as I get a chance. I am wearing a very lightweight fleece over almost 6 layers that are retaining heat. A fleece jacket is what I usually wear on the airplane as well for comfort. I usually carry it with me in my hand or in my travel tote. This fleece from old navy was for $10 during one of their sales :). I always buy clothes on sale. I do have another super warm white fleece jacket from north face (Osito 2) that I got on sale as well but still paid almost 6x this pink jacket :).
Matching glove and beanie that you see in my hand was just bought from 100 feet away Romer square in Frankfurt and I still have that. It is so warm that my hands were sweating that day. I took my beanie off for photo :). 
Frankfurt, Germany  (standing on a main river bridge by old historic Frankfurt-Romer square)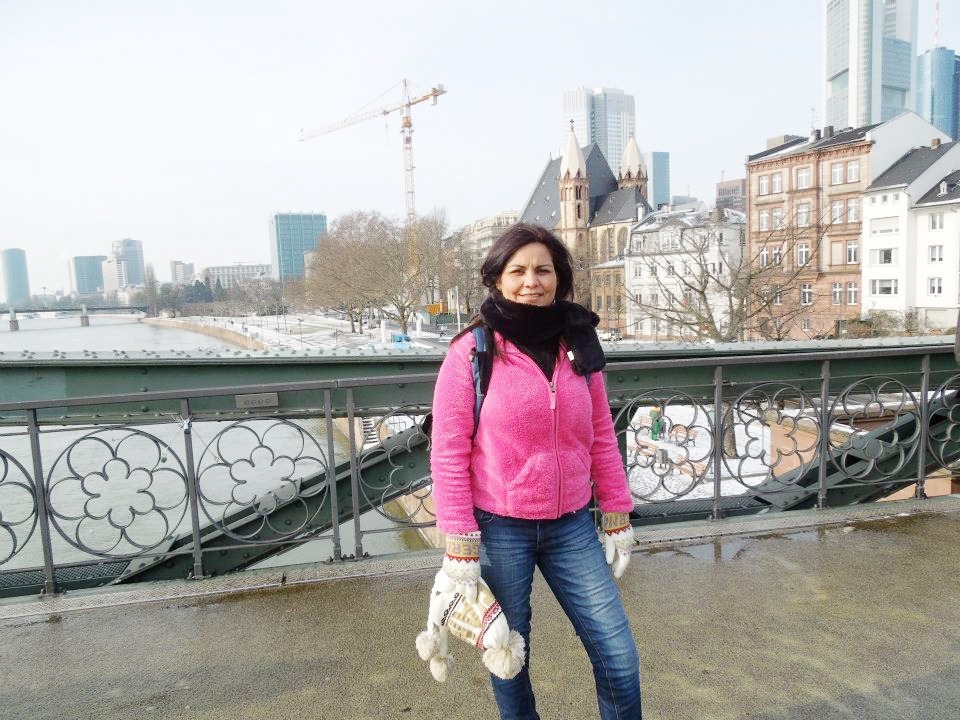 Shop my favorite fleece below 
10. Nice comfy all-weather boots/snow boots – my favorite faux fur lined boots
If I know, I will be in the area of a lot of snow and slush, I always actually wear these boots to plane to save space in my carryon. I have only one pair that has always come handy during my ski trips and to this Europe trip. Here I am standing 6000 feet above sea level in Mt. Rigi, Switzerland. I will buy one in camel color if I am in the market for snow boots again. 
Mt. Rigi, Switzerland  6000 ft above sea level (Swiss Alps making an excellent backdrop)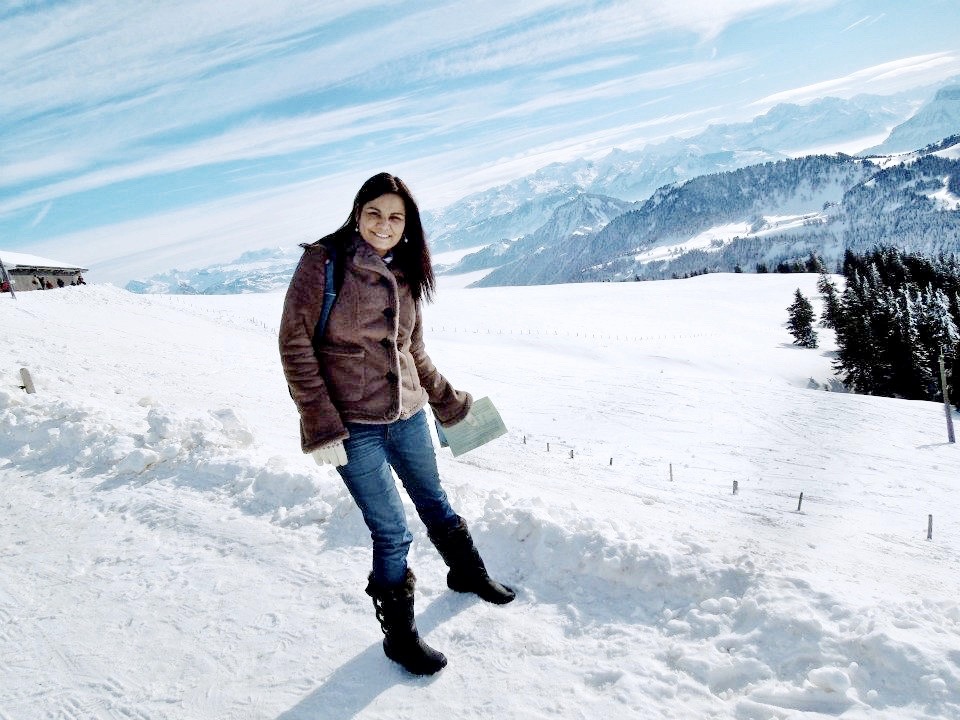 Shop my favorite snow boots below 
11. A faux fur scarf or stole 
One of my most unusually useful winter wardrobe pieces is my black faux fur pull-through neck scarf. Many years ago, I got it for only $10 from wet seal store in Kansas City. I never thought I will use it till I went on a ski trip and took it with me at last minute. This scarf saved me from biting bone-chilling cold when I wanted to wear a just short jacket. It has become my staple to carry it with me for winter travel. Here, I am standing right in the middle of old historic part of Lucerne, Switzerland. I walked through this town for 2 hours with my Mom and sister. 
Lucern, Switzerland (walking around old historic part of town)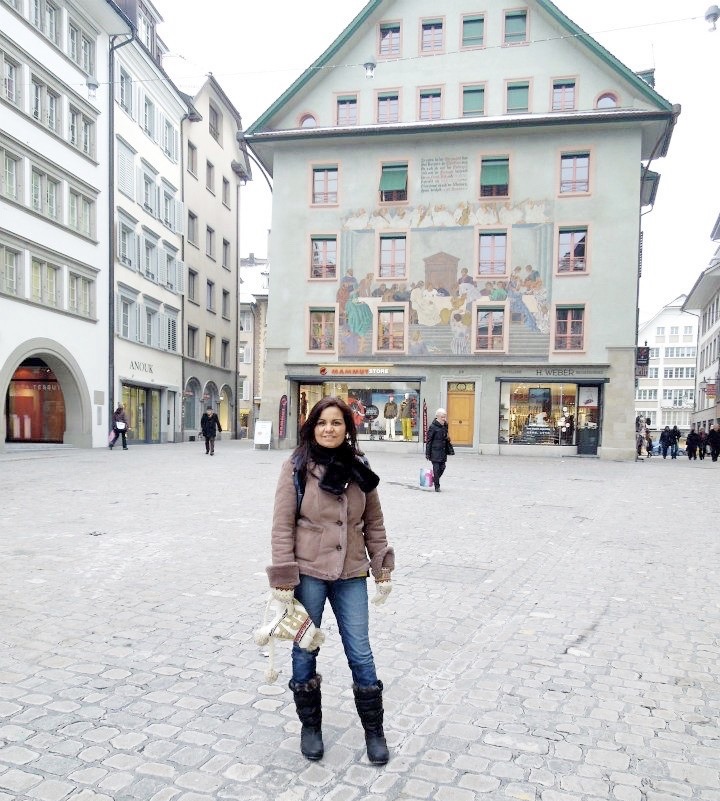 Shop my favorites below 
12. A faux fur lined suede jacket
I am so much in love with this jacket since the day I got it from Ann Taylor store. Its really old like, I got it in 2005 :). It's still good as I used it only a few times. I don't use it for Florida winter for sure 🙂 It is one of the warmest outerwear that I have. Here, I am standing in Zurich shopping area with a temperature that day in low 20's F with snow drizzle.
 Zurich, Switzerland (walking around in shopping district)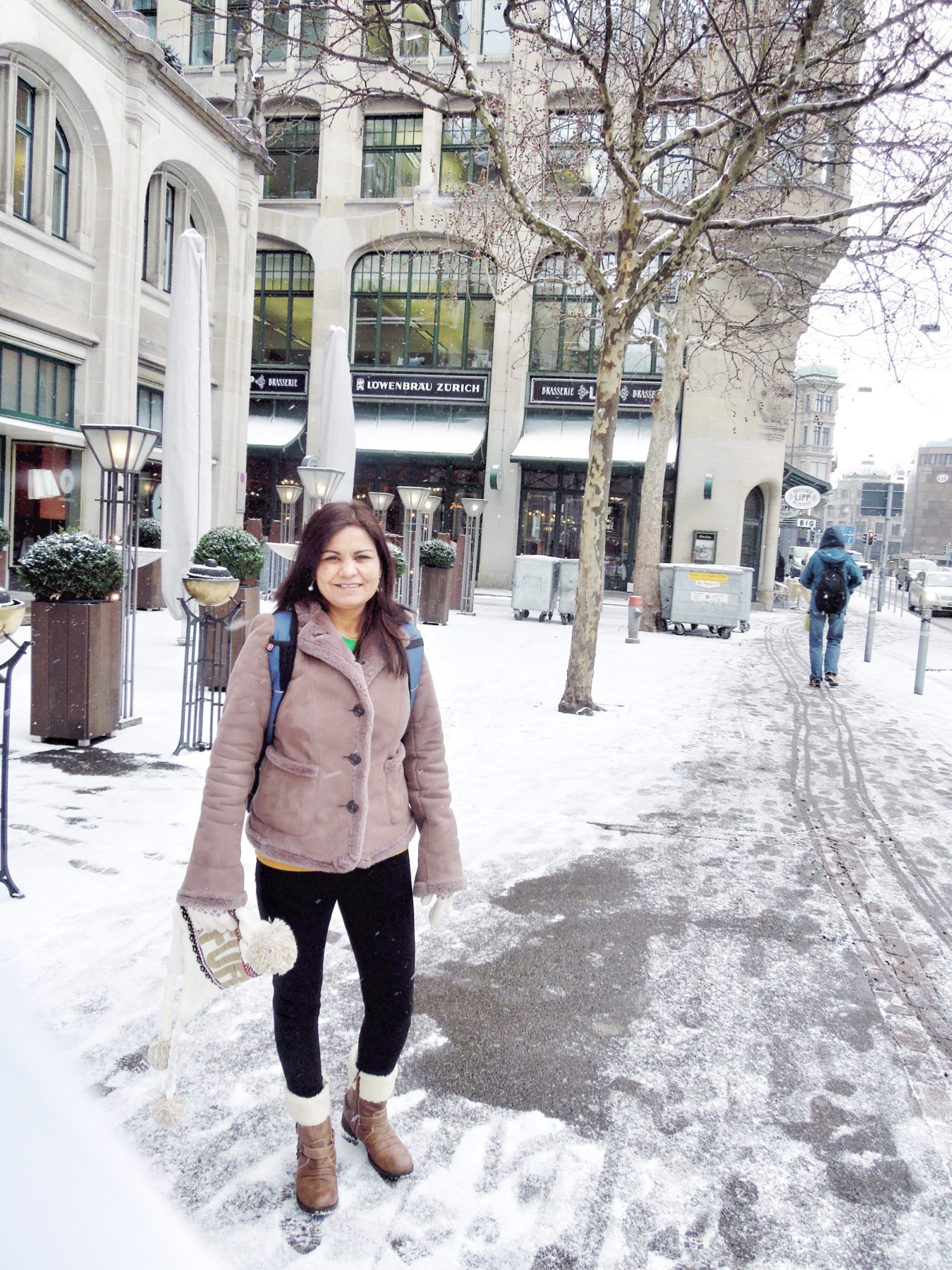 Shop my favorites below 
Thank you and style board for winter travel outfit ideas
I created this style board as well and please feel free to share it and pin it. Thank you very much for reading this post and please do share your feedback in the comments section or reach out to me via my social media icons below. Also, tag me on your favorite winter look using my Instagram account @modlotus. Thank you again for your time!!
I am working on a post for next week on cupcakes that I had decorated in the past, a super easy decoration that anyone can do. Do come back next Wednesday if it sparks any interest :). Also, here is the link to my about me and look at few other favorite things at My Shop page.
Have a great holiday season and safe travels!!
If you are looking for my favorite Zurich trips on Viator or want to search any trips around the world on Viator.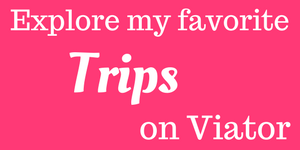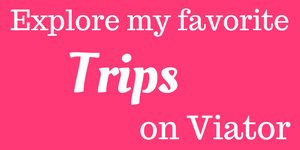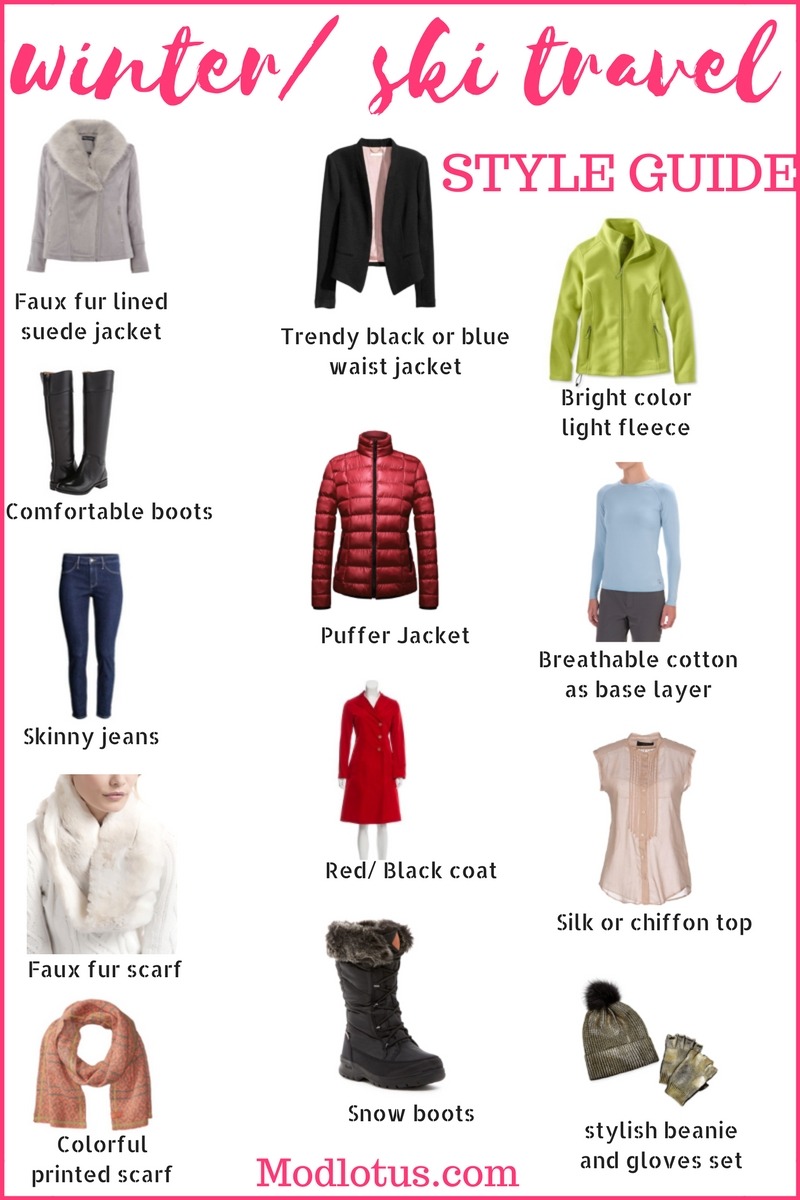 Throw back Skiing- Colorado, USA (2014) (I still use that beanie cap from Frankfurt :))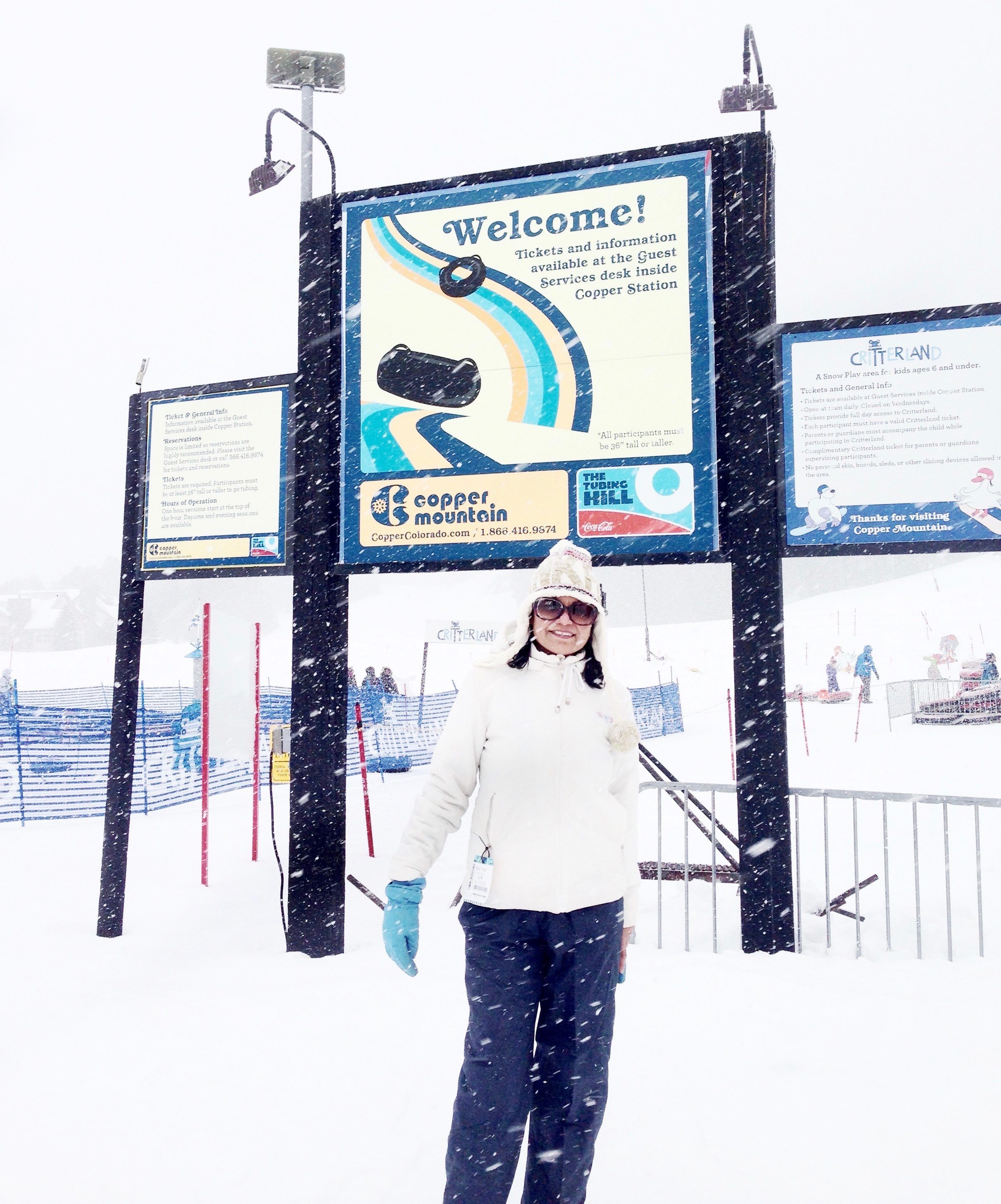 Related posts: