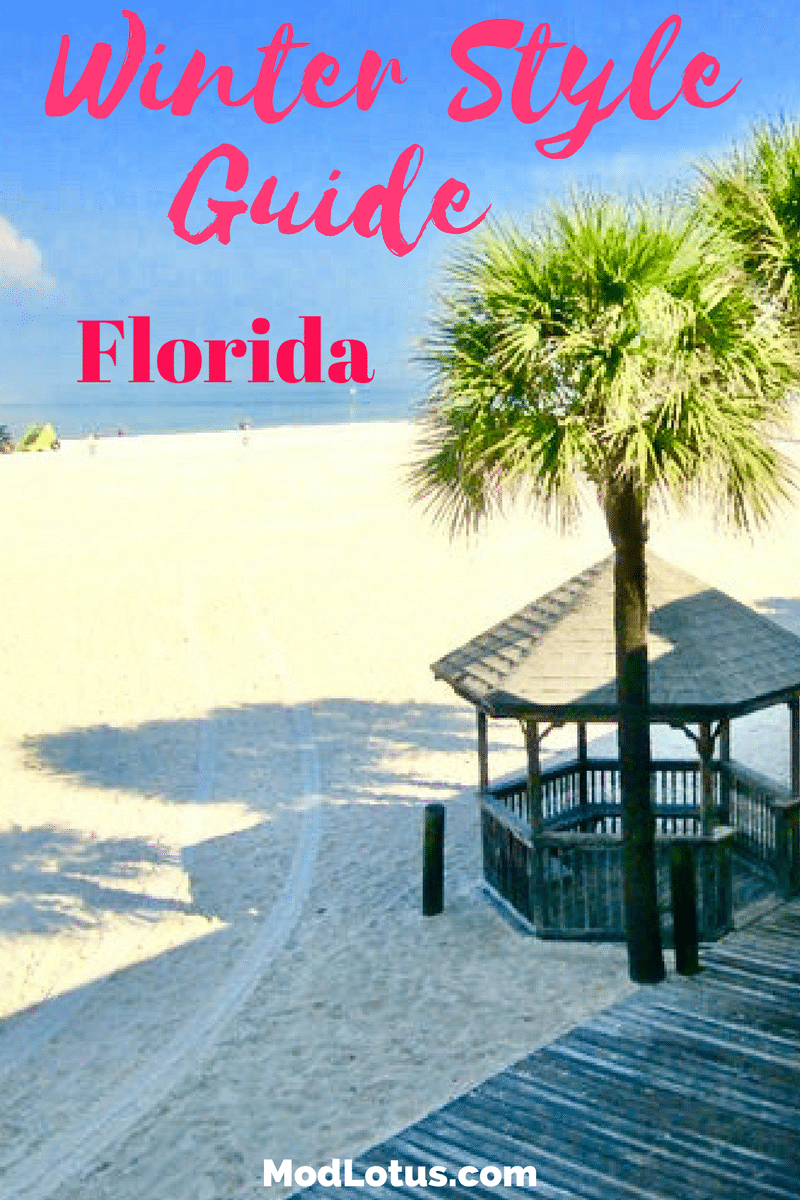 Dressing in winter for Florida could be very tricky as when rest of the country is under snow or cold weather, people in Florida on some days could start their day with low 40's and end up with pleasant high 70's in afternoon in a single day.
Most of the winter, Floridians do enjoy warm winter with temperatures in mid 70's to 80's, but there's are exceptions to these incredibly gorgeous weather when on some days Florida can have mid 50's day temperature and overnight temps in late 30's to mid 40's phew !! those are not good days :). 
Though for most of the winter,  Florida temperatures are very pleasant during the day and slightly cooler in the morning and evenings. 
Here are some of my Florida winter looks.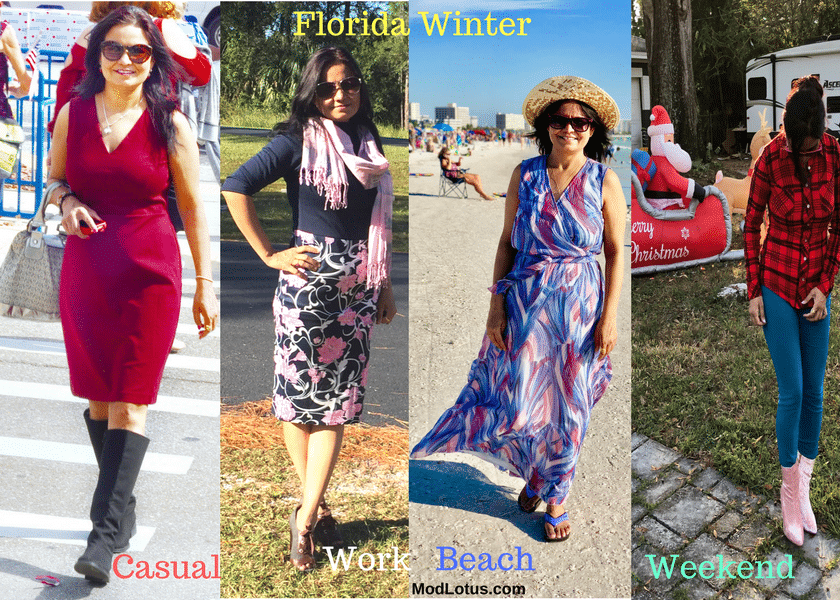 Winter Travel Style Guide For Florida
I have included a style guide for Florida that can give you some idea so as to what to wear and what to pack when visiting Florida. My reference city is Tampa 🙂 and just expect the temperature to be warmer if you travel down south to Miami, key west, Fort Myers or Naples area. Likewise, if you travel north of Tampa, then you can expect little cooler temperatures. 
   Four of the versatile pieces you can bring to Florida are capris, shift dress, comfortable shoe and front open light jacket.
Avoid sweatshirt and go for front open outerwear so as to open buttons or zipper when temperatures rise during the day. Jackets will also be needed if you are staying near the coast and planning to hop on an evening cruise or just an evening beach walk. For casual wear, a pair of light sweat for the night and shorts/Tshirt for the day is good enough on an average.
   Floral or nautical maxi dresses are my favorite and they definitely add style to your vacation outfit. Shirt dresses or shift dress with boots is the trendiest outfit you can wear during your Florida vacation.
THIS POST CONTAINS AFFILIATE LINKS, SEE DISCLOSURE / FULL DISCLOSURE HERE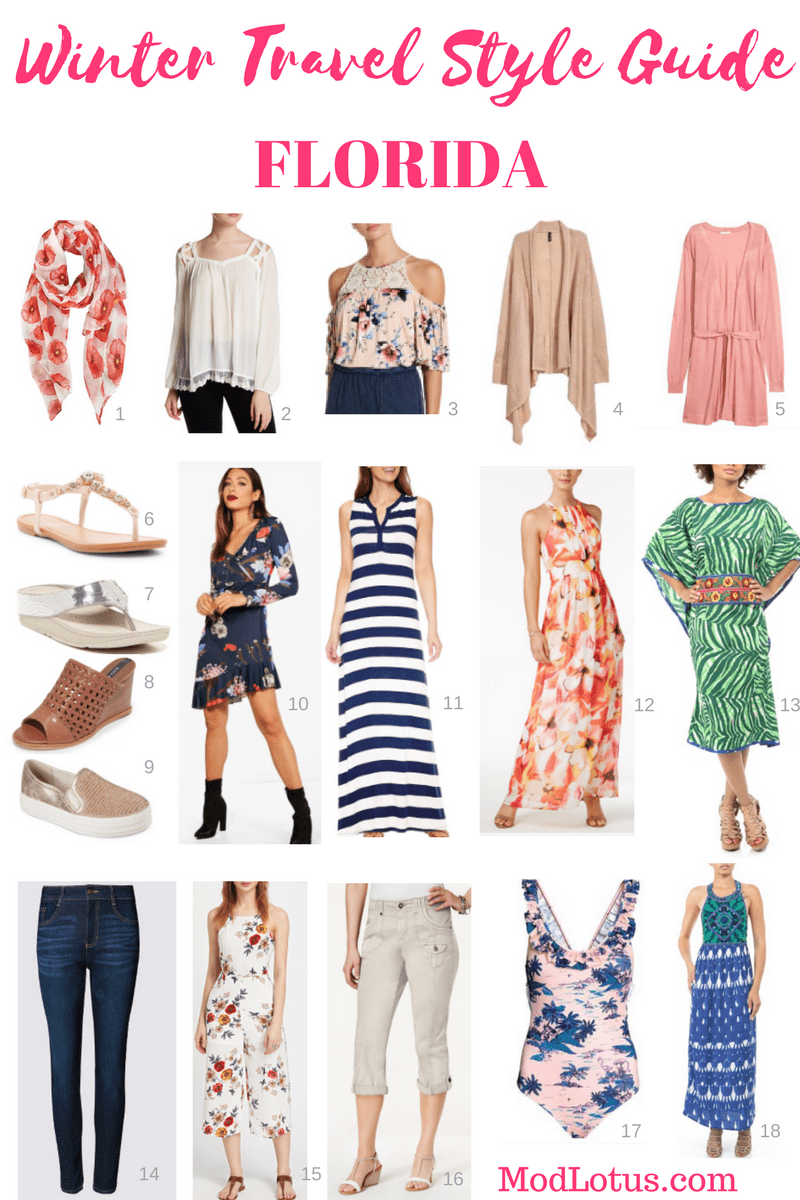 1|2|3|4|5|6|7|8|9|10|11|12|13|14|15|16|17|18
Boots, Scarfs, and Jackets –  Needed occasionally
I love adding a scarf for evenings in Florida and a light ankle boot is more than enough. And yes!!, I just got this pink velvet boot from Amazon, link here. 
A front open fleece or jacket can be very handy on cooler days or during night time.
Ankle boots, sandals, flip-flops are enough but I do wear long boots though but that's just for style factor 🙂
Casual and comfortable top
I love tops with lace and floral prints. One good thing about Florida winter is that you can wear same floral sundress or top in winter as well. 
Light or heavy cardigan
A couple of my favorite here. You can add any trendy cardigan and as I mentioned previously, I prefer front open fleece or cardigan to have some temp control :). 
Comfortable footwear
I have
a
FitFlop
brand flip flops and most of the year on weekends, I just wear those. I love wearing rhinestones as it adds a glam factor to even laziest outfit :). Here are few of my favorite footwear that I use. Long boots are not needed as ankle boots, sandals, flip-flops will be enough but I do wear boots for style factor 🙂


Long maxi dress or skater dress in
 ankle boots
I love floral or geometric sleeveless maxi dress and you can pair it up with a cardigan on a cooler day.



Floral Sundress
Yes!! you can definitely bring your summer dresses to Florida in winter and can pair them with light cardigan or boots. 🙂



Beachwear
Don't forget to bring beach coverall or swimwear. I like these two dresses from Kalaxpress as they can be worn as the daytime dress or swimwear cover all.
Kalaxpress is a clothing line designed by my sister. Use code ML25 to get $25 off your order. She participates in numerous fashion shows around the world as well. 🙂 
Both of these dresses were featured in Swank Deco Miami Fashion Week, image links below.
Casual drawstring  pants or skinny jeans
I love wearing casual drawstring pants in Florida for comfort and style. A denim jean is a must for any traveler, I think all of you will agree 🙂
Romper 
I find rompers to be very stylish. A short black romper could be very trendy for a night out.
Capri
A Capri whether floral, khaki or denim is one of my versatile piece that could be mixed and matched to have a refreshed outfit. You can wear black Capri but its always fun to add colors when visiting Florida. Isn't :)!!

Swimwear
Oh! never forget your swimwear. Even if beach water is cooler on some days in winter, most of the hotels and vacation homes have heated pool.
Thank you and Cute Cat n Boot Pic 
Thank you very much for reading this post and I hope you enjoyed as much as I enjoyed writing all about it. Let me know what do you think of Florida outfits and style board. Please share this post on Pinterest, facebook, twitter or Instagram using links below. Please do share your feedback in the comments section or reach out to me via my social media icons below. Also, tag me on your favorite Florida winter look using my Instagram account @modlotus. 
If you are traveling somewhere north then my tips for winter travel may come handy in my blog post "winter travel style guide"
Thank you again for your time!! As soon as I finished writing this post, I looked down and saw my cat sleeping comfortably on my new velvet boots. 
Ask me if you have any questions on Florida outfits, will try my best ;). I had all my three sisters review these outfit suggestions and they all agreed!! 
Have a great holiday season and safe travels!!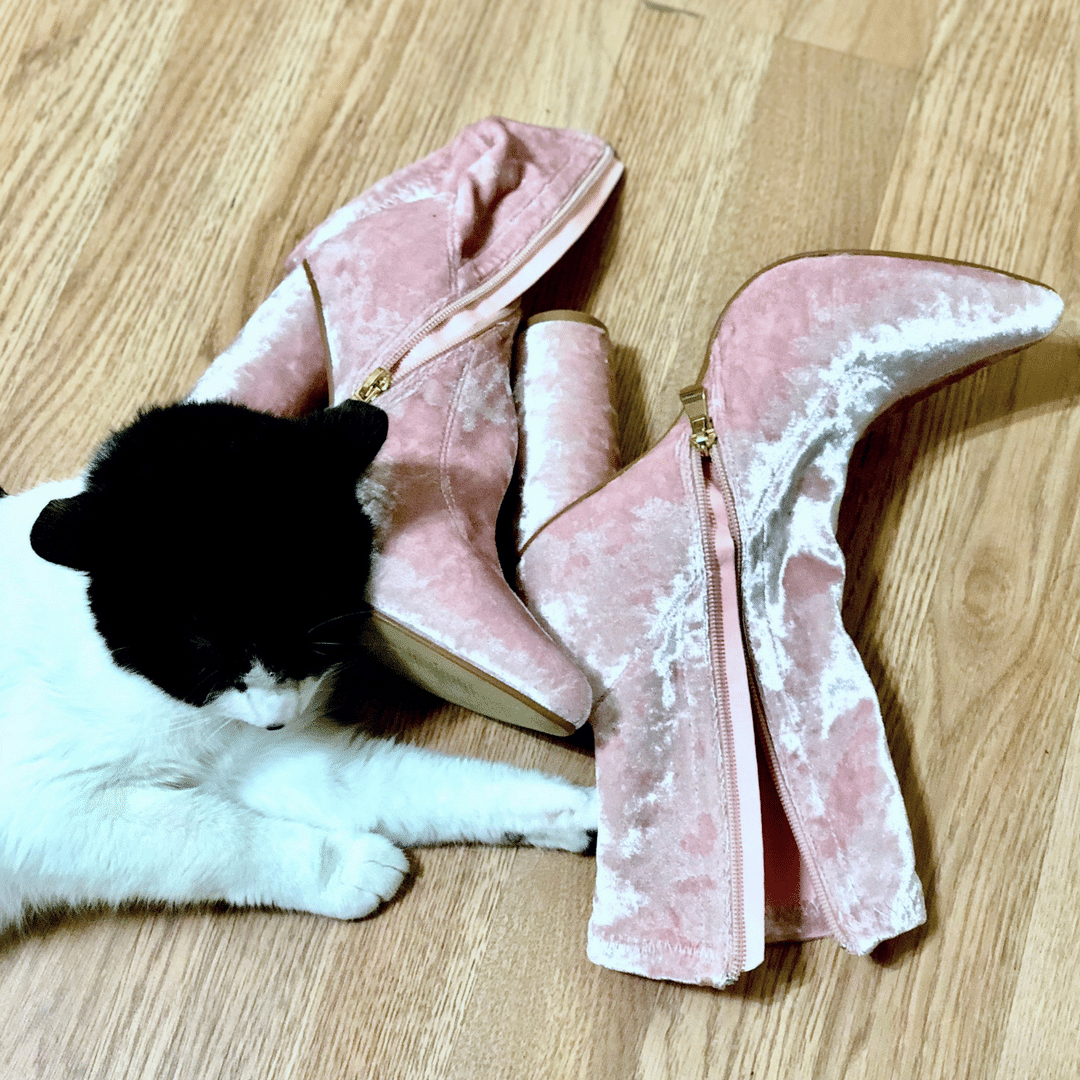 Related posts: